Balloon Decorations FAQ
What you always wanted to know about balloon decorations you'll (hopefully) find here - or you ask a question and I will answer it as best as I can.

Click here to - Ask one, Answer one or Rate one!

Click here to - See what other visitors have asked!

This is an interactive page, i.e. YOU can answer a question too, as you might know an alternative solution or simply have more experience in a certain area than I have.
Perhaps you have a great tip on how to make a color matching base. Or you've found a special technique to apply hi-float for best results. We'd love to hear about it.
This way, you save yourself and others the trouble of asking the same question on balloon decorating issues, or you become my co-expert on balloon decorations by rating and submitting comments.
When you ask me a question or submit a tip, I will build your own page exclusively for your balloon decorations issue. You can add more questions or let visitors add comments and ratings at the 'Visitor Comments' below the page, and I will always be there to answer them and help you.

Click here to - Ask one, Answer one or Rate one!

Click here to - See what other visitors have asked!
Balloon Decorations FAQ 
- My Most Frequently Asked Questions -
Question: I am interested in getting into balloon decorating - have you got any ideas or tips on how to do this?
Answer: Yes, we sure have a few tips.
If you want to start balloon decorating as a business, there are lots of things to consider. Here are a few questions you should ask yourself:
Is there enough demand in my area?
How strong is the competition?
How much time and money can I invest to get started?
How am I going to advertise my services?
... and so on.
My eCourse "How to Start Your Own Balloon Decorating Business - 7 Easy Lessons to Success" guides you through those questions. I don't want to brag, but you won't find a business building course, tailored to the needs of balloon decorators, anywhere else on the Net. Well, certainly not for US$ 27. So, sign up now and get started!
If you are planning to advertise your services with a website, then I can highly recommend the website and online business builder I use myself.  It comes with all the tools and a proven process to build a profitable service selling business online.
To ramp you up on the decorating side, you could get the Qualatex Balloon Network (QBN) Training Kits. Not only will you learn all the techniques to create professional looking balloon decorations, but you'll also get valuable tips for running a successful business. Additionally, if you take the tests, you can display the "Certified Balloon Artist" (CBA) logo on your web site or marketing brochures.
If the cost of $249 for the Qualatex Training Kits is too high for you right now, you can enroll in a relatively new video course "Easy to Learn Basic Balloon Decorating for Parties & Events," offered at a learning platform called Udemy for $49. Tip: Watch for Udemy's special offers, where you may get the course for just $10 or $15.
Question: How do you make a double balloon, that is blow up a small balloon in a large balloon?
Answer: You slip the small balloon over a chop stick, which makes it much easier to insert it into the big balloon. Make sure that the necks of the two balloons are aligned before you withdraw the chop stick. Now inflate the outer balloon first and then the inner balloon. The trickiest bit is to knot both necks at the same time without losing too much air or helium. As an easy alternative you could use a small food bag clip to seal the balloon necks.

Question: How do I create a balloon centerpiece, i.e. with 2 clusters of 4 with a latex 9 inch heart coming out of the middle?

Answer: The first thing you need is a balloon base. We feature some examples for balloon bases here. A centerpiece with two clusters of four with a latex heart on top is similar to our "Valentine Balloon Bouquet". If you follow the basic process outlined there, but with two layers of 4 balloons instead of one layer with 3 balloons, you should do fine.
Question: What is the easiest way to use tulle instead of curling ribbon?
Answer: For balloon bouquets you should not use solely tulle to attach the balloons to the base as the tulle will get stretched out and won't look nice after a while. The best way is to use curling ribbon to attach the balloons and then disguise the ribbon with tulle.
Question: Where can I get a column base from?
Answer: You can either buy a ready made one from a specialist balloon supplier or you can make one yourself, as we explain on our site. The materials for the self-made balloon column base can be found at a hardware store or at an electrical supplier (the conduit).

Question: What are the dimensions to make the Base for a 14'-16' column?

Answer: I would suggest you use steel base plates (custom cut - from a machine shop for example) as a base for those tall columns - they are heavier than the plywood ones that we describe on our web site. The downside of steel base plates is that you need to weld the flanges onto the center. Alternatively you could use strong nylon cord (aka parachute cord) to strap your plywood square base to the top of a same size square concrete stepping stone from the hardware store. That should make the base heavy enough to support your 14 to 16' column.
If the column is just for a short event (one evening) you could also fill the balloons with helium - then they will support themselves, more or less. Of course this makes it more expensive and the balloons won't hold the helium as long as they will hold air.

Question: Can I have directions for building my own columns sent to my email address?

Answer: We haven't got round to turn our website in an e-book so far, although we'd like to do that. So the best thing I can recommend is to print out the respective pages from our site and take them with you to the venue.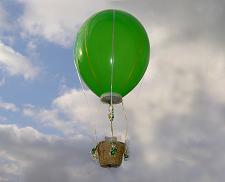 Hot Air Balloon Model - Make Your Own!
Question: Where do we purchase the supplies for the Hot Air Balloon Model?

Answer: You can get all supplies for the Hot Air Balloon model at Amazon. The 36 inch latex balloon is made by Qualatex (the renowned producer of highest quality helium balloons) and comes in a variety of colors. The fitting balloon nets are sold separately.
The baskets are a bit trickier to find. Search for "small wicker baskets" or "small willow baskets." With these searches, I found for example these two offers...
Mini Bleached Willow Baskets

Basket with Lace Trim

Question: I am interested in this balloon service, where do you operate?

Answer: We are delighted that you are interested in our balloon decoration service. However, we don't offer our decorating services at the moment, due to relocation and starting a new job. I am sorry that we can't help you with your request.
You could do a search at the BalloonHQ Directory. They have a list of balloon artists and decorators worldwide. You can specify your search by country, state, city, by category or even by name, if you are looking for a certain company.
Or you can search our own international directory of balloon professionals.
Question: Which company is the best wholesaler to buy all balloons?

Answer: As we are not living in the UK, we can't really comment on the best wholesaler there from own experience. A reliable source with high quality products surely is Qualatex / Pioneer. As a business you can order their catalog for free.
You can also search for qualified distributors and balloon professionals in the USA, Europe and other countries who sell balloons in bulk to retailers. These select distributors are members of the Qualatex Balloon Network (QBN) distributor program.

Question: Where do I find information about balloon sculpturing / decorating classes?

Answer: Please check out the BalloonHQ Calendar or search for classes at Qualatex. Both feature a regularly updated calendar of various educational courses, mainly in the United States. At Qualatex you can also search for events in other countries.
What's YOUR Balloon Decorations
Question or Tip?
Haven't found the answer to your question in my FAQ list? Then here's the place where you can ask your question, add a comment or share your answer to one of the issues with your fellow balloon decorators.

Simply fill in the form below. You can even upload a photo to illustrate your problem or solution.
What Other Visitors Have Said
Click on the links below to see some great questions and/or tips about balloon decorating. They were all submitted by other visitors of this page.

If you prefer to contact us personally, please feel free to fill in our contact form.