Which Balloon Decorating Kits
Are Right For You?
Balloon decorating kits can be a great time and money saver AND produce a stunning decor for your party... if you know which ones to choose. Our reviews of the most common types of balloon kits will help you find your perfect kit-fit for each event.
You could categorize the kits by occasion (decorations for weddings, birthdays, christenings etc.) or by complexity and price.
We will go with the latter and talk about three different types of balloon decoration kits:
Basic
Intermediate
Advanced
NEW: As an Amazon Influencer I now have my own storefront there. Check out this selection of popular balloon decorating kits, where you'll find many options in different price ranges.
(* I am a member of the Amazon Associates Program and will earn a commission from qualifying purchases at no extra cost to you.)
Basic Balloon Decorating Kits - Price range $10 to $30 (excluding helium)
The most basic balloon decorating kit would be a helium tank with 30 to 50 assorted latex balloons. If you plan a kids party, and want to spruce up the room with multi-colored balloons floating beneath the ceiling, plus have a little give away for each of the kids, then this product is for you.
One bonus here is that the necessary helium to fill the balloons is included, which is not the case for most balloon kits on the market. (Because the helium is included, the price for this balloon kit is over $30.)
The second type in the basic category would be balloon centerpieces. Most common are bouquets with three balloons, similar to our DIY Balloon Bouquet Simple & Elegant. For less than $20 you can get 10 sets including balloons, ribbons, weights and instruction sheet. But you will need to get the helium extra.
Similarly in price and level of difficulty are kits for creating a 'String of Pearls Arch' - a single row of floating latex balloons aligned along a fishing line.
Alternatively you could use the so-called Link-o-Loon balloons to create a single balloon arch. Link-o-Loons have specially designed ends to tie the balloons to each other.
Where to get them
A good place to shop for these basic balloon decorating kits is Amazon. Search for "balloon decoration kit" or "balloon arch". 
Editor's Pick: Organic Balloon Garland / Arch Kit in Blue and White
This balloon arch / garland kit contains:
100 latex balloons in assorted colors and two sizes (10", 12"): silver, white and two shades of blue
white curling ribbon
balloon arch strip
glue dots
balloon tying tool
instructions
It also comes with 16 ft of balloon decorating strip tape to help you assemble your balloons into this gorgeous organic arch shape.

They even throw in a balloon tying tool, 100 glue dots and 32 ft of white curling ribbon. 
Intermediate Balloon Decorating Kits - Price range $30 to $50 (excluding helium)
Here you'll find mainly balloon sculptures of different shapes and sizes: hearts, stars or bells, for example. The sets contain the metal frames, balloons, sizing templates and instructions.
Building this kind of decor requires a bit more skills and time than the basic ones, but it's a great way to learn how to do balloon sculptures.
You won't need helium here, but remember that you will have to blow up 180 to 280 balloons. So you either need some balloon pumps and lots of friends to help, or you rent or buy an electrical balloon inflator.
Larger versions of the trendy organic balloon arches and garlands also fall into the medium prized category. As with the framed sculptures, you don't need helium. The trick is to use lots of balloons in different colors (or shades of one color) and sizes. 
A completely different type of balloon decorating kit, but nonetheless one with great effect, would be a balloon drop ensemble.
This typically contains a balloon net, instructions for use and 150 to 400 latex balloons, depending on the size of the net and the size of the balloons (either 5" or 10").
The most time consuming part in preparing a balloon drop is to blow up the balloons. But it's worth the effort!
Where to get them
I would again recommend to start your search at Amazon. Try different search terms, like "wedding balloons", "balloon drop" and "balloon heart kit". 
Not only can you get good bargains there, but you also have the advantage that Amazon is international, which gives you a good chance to find a seller in your country. 
For organic balloon arch and garland kits I can also recommend ShimmerandConfetti.com. They consistently get raving customer reviews and offer international shipping (which is rare to find among online balloon shops).
Editor's Pick: White, Grey and Silver Balloon Garland Kit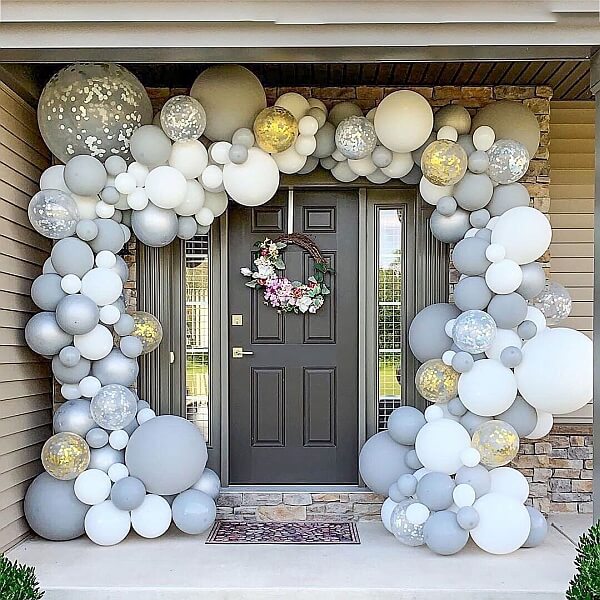 Gotta love the colors on this gorgeous, elegant organic balloon garland. The kit is sold by Shimmer and Confetti and includes:
114 x white and gray balloons (5", 12" and 18")
15 x silver chrome balloons (12")
5 x 12" silver confetti balloons
5 x 12" gold confetti balloons
1 x 36" silver confetti balloon
1 x 16ft (5m) balloon strip
1 x 180ft (55m) fishing line
1 x 100 glue pieces
1 x tying tool
2 x flower clips
At the time of this writing (January 2023) the price for the kit is $42.99. Shipping is free within the US, and you can even choose to pay in 4 interest-free payments.
Advanced Balloon Decorating Kits - Price range $60 to $200 (excluding helium)
If you'd like to impress your guests with a walk through arch or heart, then the advanced balloon decorating kits are the way to go. The arches are typically 9 to 10' (2.75 to 3 m) high and 4 to 10' (1.20 to 3 m) wide. Themes range from patriotic to school colors, from Hollywood to romantic.
Be sure to read the description carefully, as some designs require helium and others include a frame so that you can use air filled balloons.
If you want your arch to last for longer than one evening I would recommend to choose the balloon decorating kits with air filled balloons, because helium filled latex balloons will only float for 12 to 24 hours (unless treated with Hi-Float).
Where to get them
Shindigz used to have a beautiful start shaped balloon arch kit (see image below). Unfortunately this American owned  family business closed its doors at the end of 2021, after having been in business for almost a century.
Alternative places to get walk-through arch frames or complete kits are once again Amazon or LABalloons.com.
Editor's Pick #1: Celestial Balloon Arch in Various Color Combinations
Walking through such a majestic star shaped arch might really feel like entering heaven!
This exact arch as seen in the picture isn't available anymore. 
However, you can get a similar star shaped arch frame at LABalloons.com.
The arch is scalable in height from 5ft to 10ft (ca. 1.5 m to 3 m), made of light weight aluminum pieces and includes two water weights, two flanges, two stabilizing rods and even a cardboard balloon sizer. 
It does not include the balloons. 
Editor's Pick #2: LANGXUN Large Size Golden Metal Circle to Create a Trendy Round Balloon Arch
You can use this large metal arch frame with stands either for a walk-through arch or as a perfect backdrop for a wedding table or a photo op. If you fill the space between the two stands with an organic balloon garland, it gives the impression of a complete circle.
The kit includes:
8pcs Arched Iron Tubes
2pcs Balloon Bases
4pcs Balloon Tape Strip
2pcs Glue Dots
100pcs Plastic Balloon Rings
Installation Instructions
IMPORTANT: The kit does not include the balloons. The seller recommends using 10 to 12 inch balloons. You'll need about 100 balloons for a basic arch, and probably twice as many if you want to go for the popular organic look.