If you make a purchase through a link on my site, I may receive a small commission at no extra cost to you. I only recommend products that I believe to have good value (affiliate disclosure).

Which Balloon Decorating Kits
Are Right For You?
Balloon decorating kits can be a great time and money saver AND produce a stunning decor for your party ... if you know which ones to choose. Our reviews of the most common types of balloon kits will help you find your perfect kit-fit for each event.
You could categorize the kits by occasion (decorations for weddings, birthdays, christenings etc.) or by complexity and price. We will go with the latter and talk about three different types of balloon decoration kits:
Basic
Intermediate
Advanced
Basic Balloon Decorating Kits - Price range $15 to $25 (excluding helium)
The most basic balloon decorating kit would be a helium tank with 30 to 50 assorted latex balloons. If you plan a kids party, and want to spruce up the room with multi-coloured balloons floating beneath the ceiling, plus have a little give away for each of the kids, then this product is for you. One bonus here is that the necessary helium to fill the balloons is included, which is not the case for most balloon kits on the market.
The second type in the basic category would be balloon centerpieces. Most common are bouquets with three balloons, similar to our Bouquet Simple & Elegant. For less than 20$ you can get 10 sets including balloons, ribbons, weights and instruction sheet. But you will need to get the helium extra.
Similarly in price and level of difficulty are kits for creating a 'String of Pearls Arch' - a single row of floating latex balloons aligned along a fishing line. Alternatively you could use the so-called Link-o-Loon balloons to create a single balloon arch. Link-o-Loons have specially designed ends to tie the balloons to each other.
Where to get them
A good place to shop for these basic balloon decorating kits is Amazon. Search for "balloon decoration kit" or "balloon arch". 
Editor's Pick: Birthday Balloon Centerpiece
Apart from 15 high quality latex balloons, the kit contains 15 lenghts of colour matching curling ribbon, 5 weight boxes and step-by-step instructions. All for the price of £7.99 (plus shipping £2.49).
One caveat though: "Celebration Moment" ships their products to UK addresses only.
Intermediate - Price range $20 to $50 (excluding helium)
Here you'll find mainly balloon sculptures of different shapes and sizes: hearts, stars or bells, for example. The sets contain the metal frames, balloons, sizing templates and instructions.
Building this kind of decors requires a bit more skills and time than the basic ones, but it's a great way to learn how to do balloon sculptures. You won't need helium here, but remember that you will have to blow up 180 to 280 balloons. So you either need some balloon pumps and lots of friends to help, or you rent or buy an electrical balloon inflator.
A completely different type of balloon decorating kit, but nonetheless one with great effect, would be a balloon drop ensemble. This typically contains a balloon net, instructions for use and 150 to 400 latex balloons, depending on the size of the net and the size of the balloons (either 5" or 10"). The most time consuming part in preparing a balloon drop is to blow up the balloons. But it's worth the effort!
Where to get them
I would again recommend to start your search at Amazon. Try different search terms, like "wedding balloons" , "balloon drop" and "balloon heart kit". Not only can you get good bargains there, but you also have the advantage that Amazon is international, which gives you a good chance to find a seller in your country. 

Editor's Pick: Star Shaped Balloon Kit
Reach for the stars with this beautiful and easy to assemble balloon kit. It comes with 280 x 5" white pearl balloons, two sizing templates, and a metal frame.

With its size of 50" x 46" (ca. 127cm x 117cm), it makes an impressive wall decoration or backdrop for your wedding table.
Price for the whole kit: $34.99. Shipping costs vary by destination, and start at $10.95 for standard delivery within the US.

Advanced - Price range $60 to $200 (excluding helium)
If you'd like to impress your guests with a walk through arch or heart, then the advanced balloon decorating kits are the way to go. The arches are typically 9 to 10' (2.75 to 3m) high and 4 to 10' (1.20 to 3m) wide. Themes range from patriotic to school colours, from Hollywood to romantic.
Be sure to read the description carefully, as some designs require helium and others include a frame so that you can use air filled balloons. If you want your arch to last for longer than one evening I would recommend to choose the balloon decorating kits with air filled balloons, because helium filled latex balloons will only float for 12 to 24 hours (unless treated with Hi-Float).
Where to get them
ShindigZ.com  has by far the largest selection of this type of balloon decorating kits. They are an American owned family business founded in 1926 and pride themselves in having over 20 million parties served. They ship internationally, with shipping rates starting at $7.95 for Standard Delivery within the US. 

Editor's Pick #1: Celestial Balloon Arch
Walking through this majestic star shaped arch might really feel like entering heaven. The arch is about 10 feet (ca. 3 m) wide and 9 feet (ca. 2.75 m) high.
It comes complete with metal frame, 200  balloons in different color combinations and instructions for $109.99 (plus shipping, e.g. $16.95 for standard delivery within the US).
Editor's Pick #2: Deluxe Latex Balloon Arch and Column Kit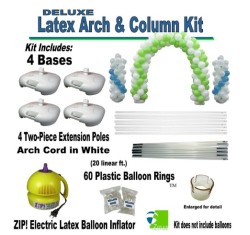 This balloon arch and column kit got excellent customer reviews at Amazon. One reviewer says: "I'm a professional balloon artist and I love this frame it's very sturdy and the arches turned out nice! I've already used it twice for events with no problems."
The kit includes 4 bases, 4 two-piece extension poles, 1 arch cord, 60 balloon rings and even an electrical balloon inflator. At the time of this writing (Sep. 2015) , the complete kit sells for $184 with free shipping.