Balloon Business Resources
How to Start a Balloon Business from Home
What do you need to start a balloon business? First of all, you need the best training to improve both your balloon decorating skills and your business know-how. 

Many beginning balloon professionals neglect the business side of things. To help you avoid that mistake, I've put together a list of training resources that will make your balloon business not just fun, but also profitable. 
Click on the links below to jump to the section that interests you most, or read the page from top to bottom!
eCourse "How to Start Your Own Balloon Decorating Business"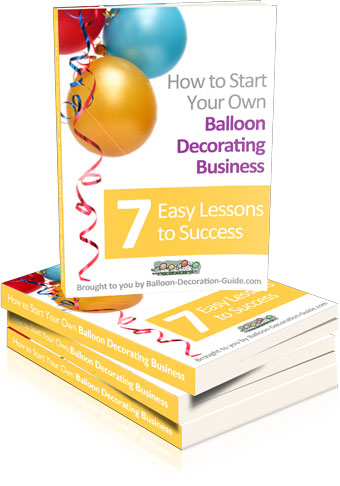 You want to turn your love for balloon decorating into a business you can run from home but don't know where to start?
My popular 7-part eCourse "How to Start Your Own Balloon Decorating Business" is just what you need.
First published in 2011, it has constantly evolved and been updated over the years. Here's what you get when you sign up for the course:
Are You an Entrepreneur?
Lay a Solid Foundation with Thorough Market Research
Check Out the Legalities
Plan and Execute Your Marketing Strategy
Get Tools and Materials at Bargain Prices
Practice, Practice, Practice… And Build A Portfolio Along The Way
How to Price Your Designs and Complete Your First Balloon Decoration Job with Confidence
Sign up for the eCourse now and let me guide you through every step of your balloon business startup process.
How do You Market a Balloon Business?
There are many ways to market your balloon business, from the good old "word of mouth" to press releases to social media.
In my training video below you'll learn about seven free or low-cost ways for promoting your balloon business.
If no one knows about your services, no one can hire you, right? It's time to spread the word!
Now that you've taken care of the - admittedly not so exciting - business side of things, you want to delve into the actual doing of balloon decorations.

Many of the common designs you can do with the instructions and tips on BloonsUp.com. But you might still be looking for more training and step-by-step guides.
The two big players in the balloon business - Qualatex and Conwin – both offer a series of instructional DVDs. I have no personal experience with any of their kits. Considering the reputation of the publishers, it's safe to assume that they are of high quality.

How to Choose a Catchy Name for Your Balloon Business
Do you have a pet? Do you remember how exciting — and challenging — it was to find the perfect name for it? Choosing the right name for your balloon business is a bit like that.
You want the name to be easy-to-say, memorable and true to your brand and personality. And it also has to be available as a domain name and on social media. 
Fortunately there are some free tools to help you brainstorm ideas. Check out our guide to finding catchy balloon business names in four easy steps.
QBN Balloon Kits, Qualatex
The Qualatex Training Kits consist of three parts:
QBN Balloon Basics Kit
QBN Balloon Deliveries & Bouquets Kit

QBN Balloon Decor Kit

Each kit includes a DVD, the Qualatex catalog, online reference material and test. With the first kit, you also get the "Design Basics With Balloons" book.
If you go through all three training units and take the tests, you can display the "Certified Balloon Artist" (CBA) logo on your web site or marketing brochures. Having that certification is valuable when you start a balloon business.
Price (as of April 2020): US$ 99 per kit, or US$ 249 for all three of them.
Start a Balloon Business: DVDs, Books, Online Courses, YouTube Channels,  Facebook Groups, Podcasts
Balloon Decorating Beginners Course on Udemy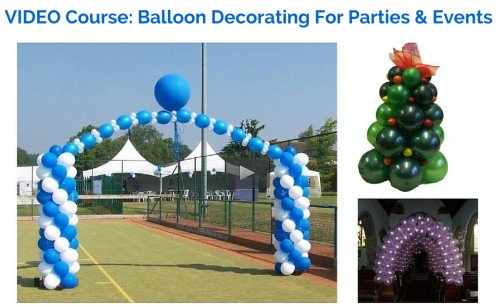 If you're just starting out with balloon decorating, you may find the online course "Easy to Learn Basic Balloon Decorating for Parties & Events" helpful. 
The course includes 23 lectures with a total of 2.5 hours of video. In the first lessons, you'll learn the basics, for example how to correctly fill and tie balloons, how to knot them into pairs and create clusters of 4 balloons.
You'll then learn various designs, both air filled and helium filled. Example designs included in the course are:
4 petal balloon flower
4 cluster column
Mini christmas tree
3 and 5 balloon bouquets
Double bubble
Balloon clouds
String-of-Pearls arch
Linkaloon arch
The lessons are broken down into short easy to follow videos. Over 1,100 students are enrolled in the course (at the time of this writing, February 2021), and it has an overall rating of 4.3 stars out of 5.
Who is this course for? Peter J. Smith, the instructor, writes:
"This balloon decor course is designed for beginners who wish to learn how to create balloon displays for parties and events for themselves without having to hire a professional. No prior knowledge is required. Everything will be explained to you and demonstrated step by step."
Price: $39.99 for lifetime access
Books and Podcasts
Books and podcasts may not be the best medium for teaching something as visual as decorating with balloons, but they can still provide valuable advice, especially for starting a balloon business.
Here are two books and one podcast that were recommended by the BloonsUp community.
The DIY Balloon Bible For All Seasons: How To Wow Your Friends & Impress Your Relatives With Amazing, Easy Balloon Decorations (book by CBA Sandi Masori with tips, tricks and actual recipes on how to create over 25 designs)

The DIY Balloon Birthday Bible: How To Decorate For Birthdays, Picnics, Family Parties, and Any Other Fun Event! (another book by Sandi Masori, featuring more than 40 air-filled design ideas for birthday parties and more)

The Bright Balloon Podcast (weekly podcast by Sara Meyer with focus on balloon business tips and advice)
Balloon Decorating Resources on Ebay
Ebay offers a selection of balloon decorating DVDs which can be helpful when you start a balloon business. Browse the selection below for anything of interest to you.
Recommended YouTube Channels for Balloon Decorators
And then there's of course YouTube with a plethora of balloon decorating videos and tutorials. Some are really good; others not so much. These are my favorite channels...
Finally, check out the Qualatex events calendar to find balloon decorating classes in your area and online.
Some More YouTube Channels Recommended by my Readers
In a recent survey I asked all the brilliant people on my newsletter list to share their favorite balloon decorating learning resources. These are some of the YouTube channels they suggested:
Yes! Event Decor & More (well structured channel with a mix of step-by-step tutorials and "behind the scenes" look where you get to watch Lonielle Cousar, the channel owner, setting up decor for her clients)
Sharpe Designs by Lakeisha (certified event planner and designer Lakeisha Sharpe gives tips for different kinds of balloon decorations, from themed events to buying balloons on a budget)
Decor Lab (relatively new channel with balloon decorating tutorials and advice for starting a balloon business)
Uptown events (the channel features a large number of DIY balloon tutorials, product reviews and some business tips)
Anastasia Onishchenko (well established channel with almost 170K subscribers; her balloon related videos focus on tutorials for balloon garlands and backdrops)

Gustavo GG (large channel with a mix of balloon decorating and twisting tutorials; this is the channel for you if you're a Spanish speaker; Gustavo's quirky personality makes it fun watching his videos; even the videos without voice-over do a great teaching job)
Holly the Twister Sister (as the name indicates, Holly teaches balloon twisting; her channel boasts hundreds of twisting tutorials, from beginners to advanced)
Facebook Groups for Balloon Hobbyists and Professionals
Facebook Groups have become a great source of advice and inspiration, both for those of us who just dabble in decorating with balloons and for professional balloon decorators and twisters. Here's a small selection of groups that I have joined.
Best of luck with your balloon business start up! I would love to hear about your experiences. Just drop me a comment below.