The Best 21 DIY Balloon Centerpiece Ideas Ever!

Looking for unique table decorations to make your birthday party, baby shower or wedding sparkle? One of these 21 unique balloon centerpiece ideas will no doubt fit the bill.

If you make a purchase through a link on my site, I may receive a small commission at no extra cost to you. I only recommend products that I believe to have good value (affiliate disclosure).

Easy Balloon Centerpiece Ideas

Let's get warmed up with these three easy-to-make balloon bouquets. Choose between two designs with floating, i.e. helium-filled balloons and one air-filled design.

Balloon Bouquet Simple and Elegant
All you need for this classic staggered (or cascaded) balloon bouquet are 3 latex balloons, color matching ribbon and helium.
The balloons are anchored to a self made balloon base. If you are in a hurry, you can also purchase ready-made anchors.
Halloween Decoration: Spooky Bouquet

For this Halloween themed bouquet the balloons are stacked, not staggered as in the first example. You need 3 latex balloons, one mylar balloon, curling ribbon, helium and an anchor. We used a ceramic pumpkin to complement the Halloween look.
This centerpiece design is super versatile. All you have to do is choose balloons in different colors and/or prints, and you'll have a Happy Birthday, baby shower or graduation design.
Halloween Balloon Centerpiece No Helium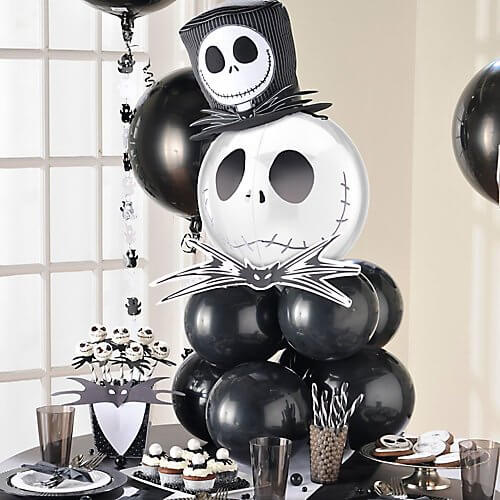 Another Halloween themed centerpiece idea, but this time no helium is required. You'll need eight latex balloons, one themed foil balloon of your choosing, one 260q twisting balloon, and curling ribbon. A balloon pump comes in handy for blowing up the balloons.
For full how-to instructions, please see the video on my Halloween balloon decoration page.
Small Balloon Centerpiece Ideas
Have you ever wondered how to make a small balloon centerpiece? Then the next three designs are for you.
Ice Cream Cone Balloons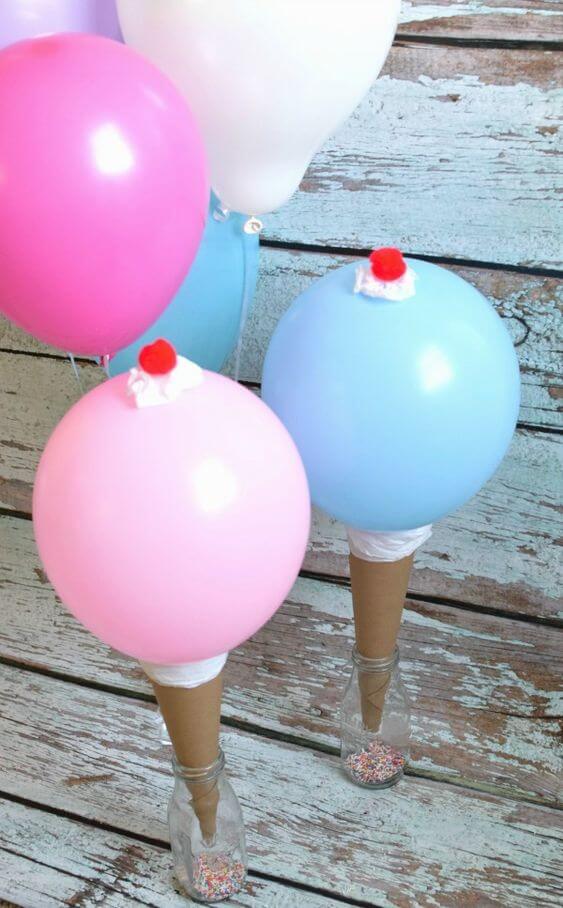 Most of the material for these balloon ice cream cones you should get at any craft store or even a well stocked supermarket.
The tutorial by prettymyparty.com suggests to fill the latex balloons with helium. But if you place them into small glass bottles or empty jam jars, you can save the helium and simply blow them up with air. 
DIY Mini Balloon Bouquet
Another super simple and inexpensive small table centerpiece idea, found on restaurationbeauty.com.
Blow up several 9 inch balloons to the desired size, stick the necks into paper straws, secure them with transparent tape and arrange them in a mason jar. Adorn the jar with ribbon and a "Happy Birthday" tag, and you are done.
Themed Small Balloon Centerpiece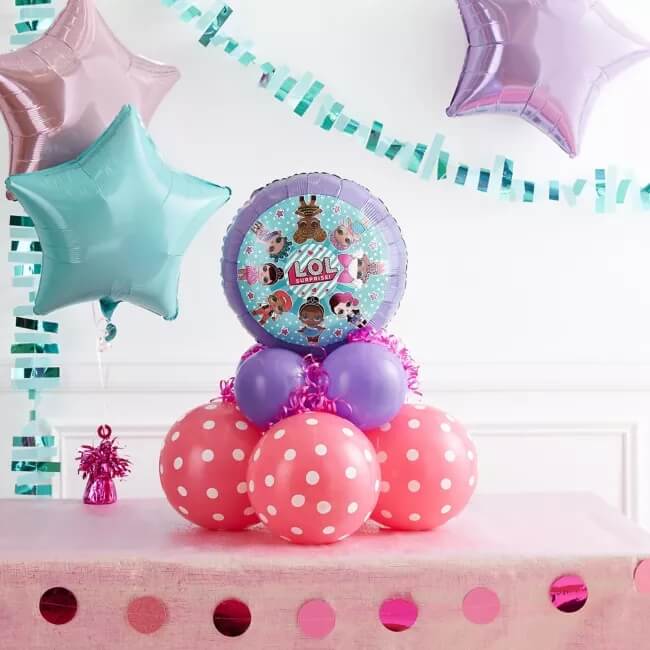 This centerpiece was designed for a surprise birthday party. The "LOL" themed mylar balloon goes very well with the pink polka dots and the purple plain balloons. 
You can of course use any combination of plain or printed balloons to fit the theme of your party.
The centerpiece is easy to make and requires no helium. Just follow the step-by-step instructions provided by the folks at partycity.com. 
Hot Air Balloon Centerpiece Ideas
Hot air balloon models are the perfect decoration idea for any kind of party that symbolizes the beginning of a new chapter, like a baby shower, wedding, graduation, moving house, or even a "round" birthday.
Large DIY Hot Air Balloon Centerpiece
Up, up and away! For this gorgeous hot air balloon centerpiece you need a 36 inch latex balloon, helium, several 5 inch balloons, netting, a wicker basket and a teddy bear or other cuddly toy as the "passenger."

Hot Air Balloon Centerpiece No Helium

The great thing about this variation of hot air balloon centerpieces is that you don't need helium! The balloon is held up by a balloon stick. The tiny white flowers in the basket complement the look perfectly. 
What's with the numbers, you ask? These centerpieces were made as table number holders for a wedding reception.
Source: bellenza.com
Paper Mache Hot Air Balloon
If you are seriously into crafting, this giant paper mache hot air balloon model is for you! It's made with a 36 inch balloon, lots of layers of paper mache and lots of love for details.
The idea of decorating the balloon with vintage envelopes, buttons and scraps of fabric is awesome, right? 
And guess what the "100 kg sand bags" are made from? Self fill tea bag sachets! Genius!
Source: katescreativespace.com
Balloon and Flower Centerpiece Ideas
Flowers have a long tradition as table decoration. So why not combine them with balloons to create an even more impressive look?
Valentine Balloon Bouquet with Floral Base
This Valentine balloon bouquet combines two of the best gift ideas into one: a living plant and floating balloons. In just a few simple steps you can make the centerpiece and its floral base yourself.
Want to use it for Mother's Day, a birthday or a get well present? No problem. Simply choose an appropriately themed mylar balloon instead of the red heart.
Tropical Balloon Tablescape Centerpiece
Combine bright yellow latex balloons and green foliage (palm fronds, monstera leaves), and you've transported your summer party into a tropical paradise! I love the simplicity of this design, and how easy it is to make.
Tip: Instead of threading the balloons together with twine, use balloon decorating strip.  
Source: blog.birdsparty.com
Quinceanera Centerpiece with Tulle and Flowers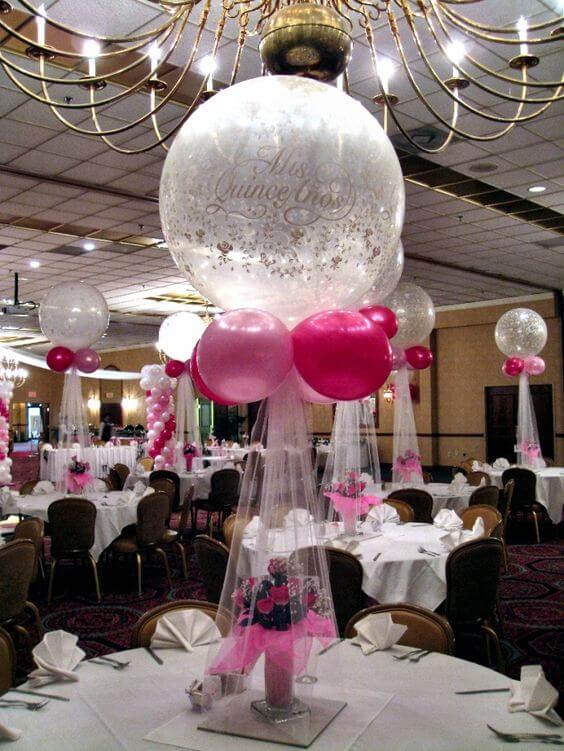 Which 15 year young lady wouldn't be thrilled by this table decoration? The bouquet of pink roses complements the balloon arrangement perfectly. I like the idea of using a color matching tile as base. It does double duty as anchor, holding the strings of tulle in place. 
Source: davisdesigndecor.com, via Pinterest
Balloon Centerpiece Ideas for Birthday Party
From one year to a 101, there's always a good reason to celebrate someone's special day with a special decoration.
Centerpiece for a First Birthday Celebration
The large golden number one mylar balloon leaves no doubt about the occasion. Floating behind it are helium-filled 11 inch latex balloons in pink, pearl and gold. A beautiful setting for a special celebration!
Source: bubbyandbean.com
Personalized Deco Bubbles

Putting vinyl letters on deco bubbles has become a trendy way to personalize balloons. Applying the vinyl and getting it to stick without wrinkles or tiny bubbles can be tricky. I've given some tips about how to best do this, here.   
Image Source: Pinterest
Birthday (or Wedding) Centerpiece Using a Balloon Stand Kit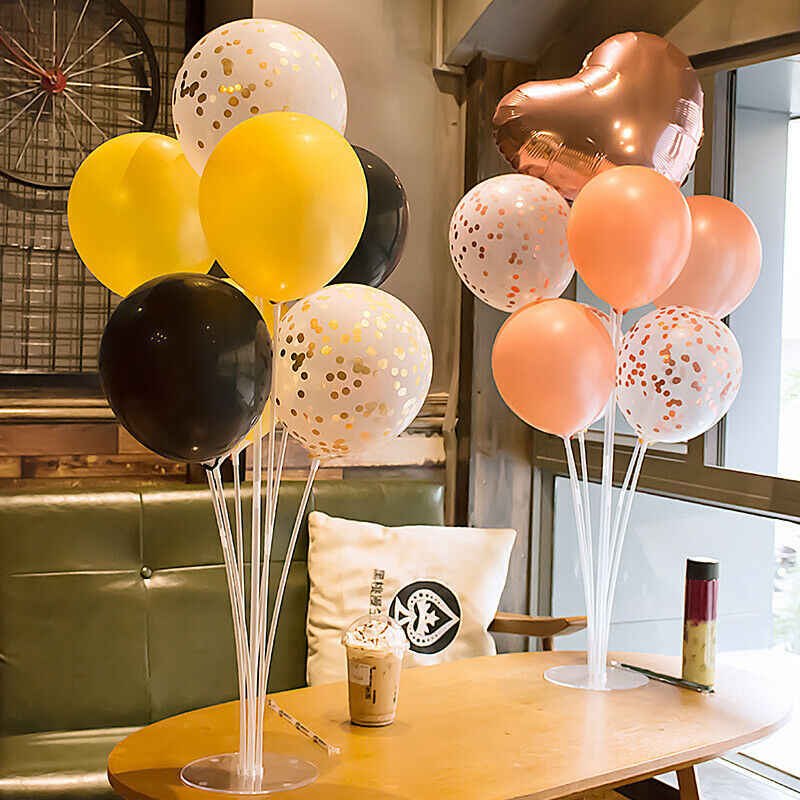 These clever balloon stand kits hold up to seven latex or mylar balloons. Made of balloon sticks and cups, they are an excellent alternative to floating bouquets because they save you the expense for helium.
Dress up the base plate with tulle, flowers or 5 inch balloons for an even more elegant look.
Image source: aliexpress.com
Wedding Balloon Centerpiece Ideas
Clear Bubbles with Heart Shaped Confetti
Probably one of my all time favorites, this centerpiece uses pastel colored paper hearts for the strings and as confetti in the clear deco bubble balloons.
Add a silver chalice with a flower arrangement as anchor, and you've got the perfect wedding reception table decoration!
Image source: Pinterest
Hula Hoop Centerpiece in Chrome Colors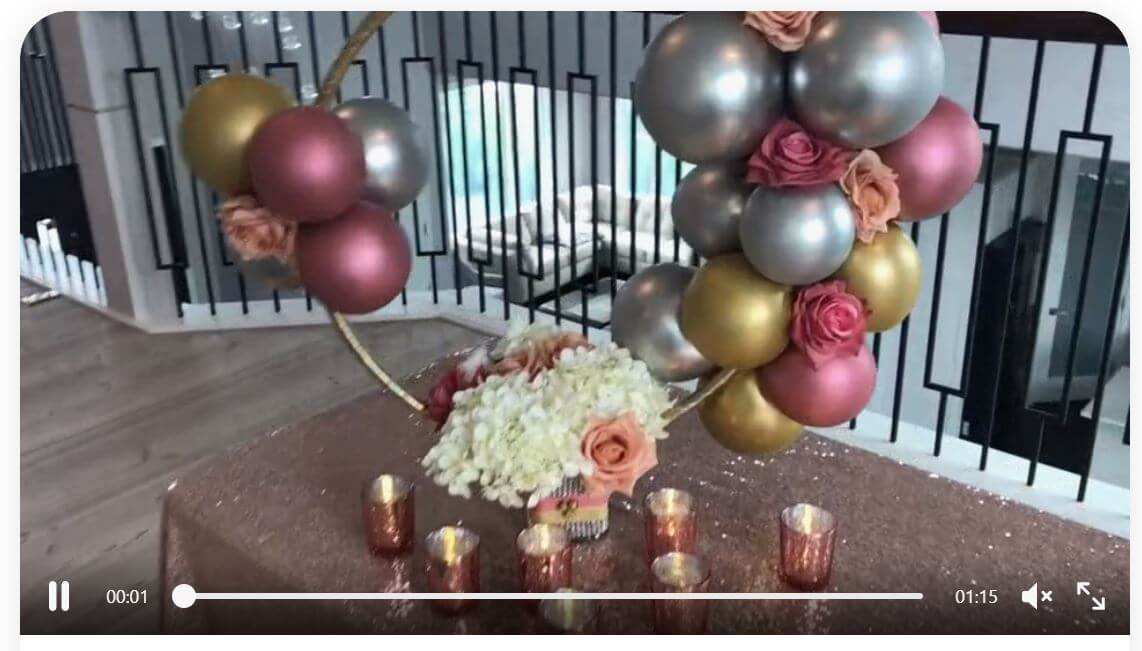 To create this gorgeous centerpiece you need a 20 inch hula hoop, square glass candle holder, 3 hydrangeas, 10 roses, floral foam and 21 x 5 inch balloons (9 silver, 6 gold, 6 pink). To weight down the base, fill the candle holder with marbles, pebbles or sand. 
You'll also need a glue gun (or some strong glue) to attach the hoop to the candle holder. Click the image or the link below to view the how-to video on Pinterest.
Source: Pinterest
Table Balloon Centerpiece with Numbers
A beautiful and practical table centerpiece idea: the large floating balloons display the table number in vinyl letters. The height of the balloons makes it easy for your guests to spot the table they're sitting at. 
The timber disk and white flowers make the perfect balloon anchor in this rustic barn setting.
Source: fettiandbow.co.uk
Baby Shower Balloon Centerpiece Ideas
Mini Balloon Topiary Tree
These miniature balloon trees are super cute for a baby shower! All you need are 5 inch balloons in the colors of your choice, a balloon pump (can be a manual pump) and glue or a glue gun. The only parts that are sometimes a bit harder to find are the "Lomey" products used for the stand.
In this video tutorial, the instructor uses 6 inch Lomey dishes (which you can find at Amazon), 14 inch columns and a so-called "universal piece" to connect the column to the dish. The columns and universal pieces you may find at floral product suppliers, like for example Marshall Floral Products.
As an alternative solution, replace the dish with a decorated gift box and the Lomey column with a timber dowel, wrapped in color matching ribbon, as shown below.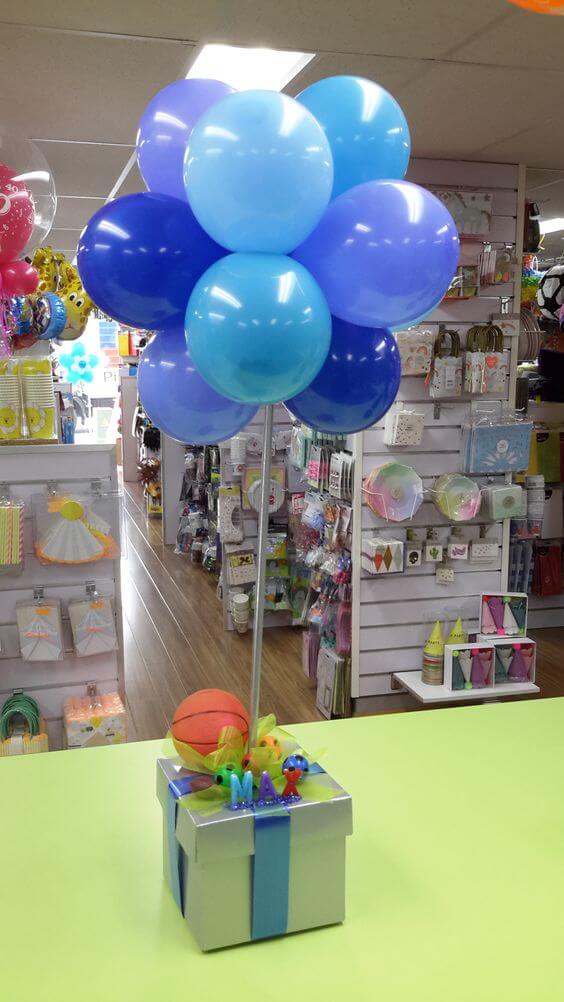 Source: Pinterest

Rainbow Balloon Centerpiece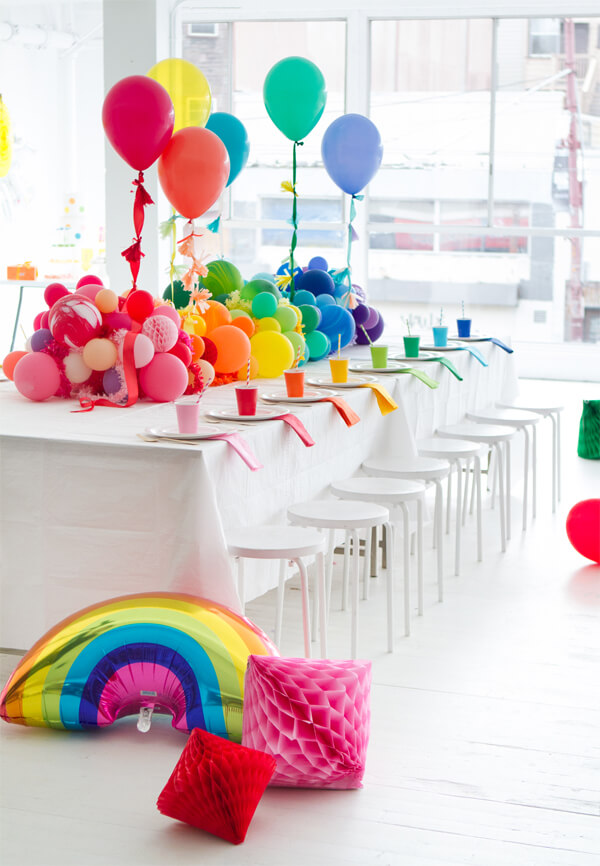 A colorful idea to make a happy occasion even happier! This rainbow colored table centerpiece isn't complicated to make, but it does take time. 
Supplies you'll need: Chicken wire, wire cutters, gloves, balloon pump, 11" and 5" rainbow balloons, cool melt glue gun, 5" honeycomb balls, festooning, tissue paper, x-acto knife, tape, ribbon and a helium tank.
Find more photos and full instructions at ohhappyday.com.
Bubble Bath Baby Shower Centerpiece
Super easy, cute and practical! You get three for one with this baby shower centerpiece idea. Fill a toy bath tub with 5 inch clear balloons and place a small mylar baby balloon inside. Everything's air filled, so no helium required.
Add some baby products like powder or lotion, a rubber ducky and a soft towel and you have the perfect baby shower gift-decoration combo.
Source: inflations_n_creations
Balloons offer a one of a kind touch to the table, and making them can be a family project. The night before your party, gather your children and the necessary supplies. Together you can create a unique centerpiece for the party table.
Whether you are looking for unique wedding table decoration ideas, seeking a way to jazz up gifts, or add to the holiday tablescape, balloons will help you put together the perfect creation.