Table Base for Balloon Bouquet
"Simple & Elegant"
Creating a table base for your balloon bouquet is easier than you may think. Our step-by-step guide shows you how.
What you need for this table base: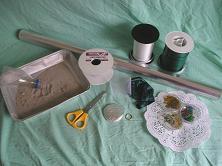 11" high quality pearlescent latex balloons, color of your choice (in our example we used 'Qualatex' pearl teal),
color matching and white curling ribbon (5mm wide),
clear cellophane (50cm wide),
white tulle (5cm wide),
small metal or plastic ring (1.5cm diameter),
self-made funnel,
fine grade dry sand and
optional: decorative metallic confetti and tulle or paper doylies.
Step 1: Filling the Balloon with Sand
The easiest way to fill your balloon with sand is to make your own funnel from an empty 500ml plastic coke bottle. The size of its neck is ideal for both stretching open the neck of the balloon and for pouring in sand quickly. Carefully cut the bottle and leave yourself roughly 8cm at the neck end.
Before you fill the balloon with sand, you need to pre-stretch it by blowing it up to approximately half it's normal size and letting the air out again.
Now take the balloon neck between your thumbs and index fingers whilst using your remaining fingers to steady the upturned funnel (fig. 1). Then slip the balloon neck over the neck of the bottle (fig. 2). 
Upturn the funnel and begin filling the balloon with sand (fig. 3). Fill the balloon up to the size of a tennis ball (fig. 4).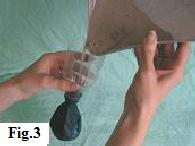 Next, remove your funnel and slip the small metal or plastic ring over the balloon neck (fig. 5). Then tie a knot, being careful to expel any trapped air from the balloon (fig. 6).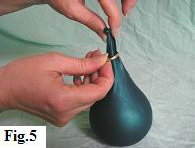 Step 2: Dressing the Balloon with Tulle and Cellophane
Cut a square of cellophane (50 x 50cm), snip off the corners and lay it on a flat surface. Then place your home made cake board in the center of the square and put the sand filled balloon on it (fig. 7).
Next cut two 25 cm lengths of tulle and cut a slit in the center of each of them, just big enough to slip over the ring. They should be placed beneath the knot of the balloon and positioned in the shape of a cross. Finally cut a V-shape on the four ends of the tulle (fig. 8).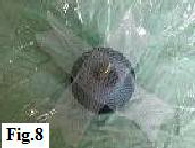 Carefully gather up the cellophane towards the ring, making sure that the tulle is in an upright position (fig. 9). Once you're happy that it's folded in evenly, take approx. 60cm of white curling ribbon and tie off the cellophane with two knots. It's important that the securing ribbon is tied below the ring (fig. 10).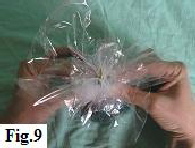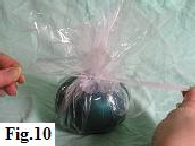 Click here for the final steps of your Table Base "Simple & Elegant".