Balloon Arch 101

- What You Always Wanted to Know -
Does a balloon arch need helium? What kind of balloons do you use? How many balloons does it take? And how, exactly, do you make one?
Let's dive into the answers, shall we?
If you make a purchase through a link on my site, I may receive a small commission at no extra cost to you. I only recommend products that I believe to have good value (affiliate disclosure).

Want a short cut to creating balloon garlands and arches yourself, hassle-free and at an affordable cost? Check out my review of the five best balloon arch kits.
Does a Balloon Arch Need Helium?
Balloon arches can be helium or air filled. To find out which type is best for you, answer the following questions:

How long should the decoration last?
Is the decoration for an indoor or outdoor event?
How many helpers do you have for building the arch?
How much time and money do you want to invest?
Helium Filled Balloon Arches
A helium filled arch, especially a so-called "String of Pearls", is the easiest and less time consuming solution. As the balloons float, you won't need any sturdy construction.
The balloons are simply attached to a fishing line. This also works for an arch made of balloon clusters of three to five balloons each.
A simple variation of a single line arch is the so-called "Link-O-Loon" (or Linkaloon) arch. Link-o-loons have special ends to tie the balloons to each other.
All you have to do is inflate the link-o-loons with helium and knot them together with these ends. You can get a huge variety of Link-O-Loon balloons at bargain prices at Amazon.
If you attach clusters of four 5" balloons in contrasting colors between each link-o-loon, you get the beautiful result as shown in the picture.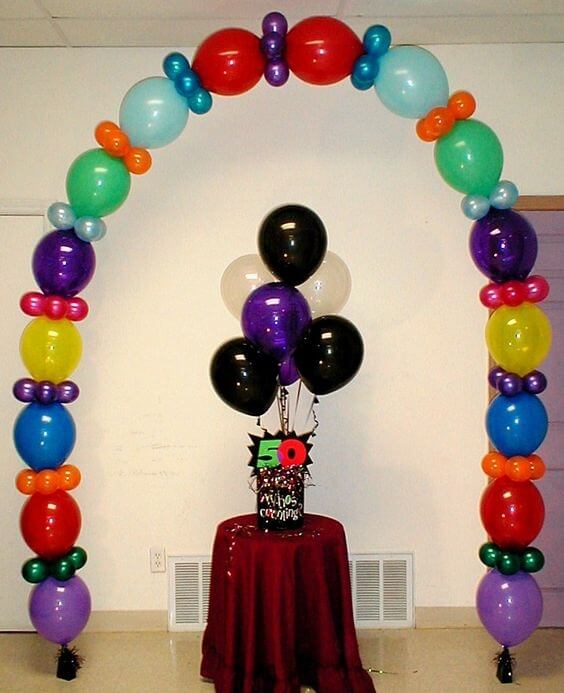 Multi-colored link-o-loon balloon arch [Image source: www.pjspartyrental.com]
You can also make a link-o-loon arch without helium or a stand, as the folks from "Ask Me For a Balloon" demonstrate in their video tutorial below.

Pro Tip
 Treat latex balloons with Ultra Hi-Float to expand their float times. 
The downsides of every helium filled decoration are their relative short life span of about 12 to 24 hours and the cost of the helium.

In summary, helium filled arches are best for indoor events that last a single day or evening. Wedding balloon arches would be a good example for the use of helium filled designs.
Air Filled Balloon Arches
If you need a decoration for more than one day, or for an outdoor event, you will be better off with air filled decors. An air filled arch needs two supportive elements:
a frame made of a strong, flexible material such as conduit, PVC pipe or aluminium rod and
a sturdy base at either end to anchor the arch
Consider how to blow up the balloons. As you will need about 6 balloons per inch, it would take a lot of breath to blow them up by mouth. 
A hand pump could be an alternative, but it still is hard work. The easiest solution would be an electrical balloon inflator. If you don't want to buy one, you could try to find one for renting.
In summary, an air filled balloon arch takes some time and effort to prepare. However, you can do this well in advance, and you can re-use both the frame and the bases.

What kind of balloons do you use for a balloon arch?
The most commonly used balloons for arches are round latex balloons in sizes from 5 inches to 36 inches.
For a "traditional" single row or clustered balloon arch you usually just need one size, in either a single color or two to four different colors to create a pattern.
For the trendy "organic balloon arches" you need at least 4 different sizes (5", 11", 16", 36"). And you need each size in various colors, or shades of the same color (typically 5 to 8 colors).
You can also mix latex balloons with Mylar or foil balloons, or even create an arch completely with foil balloons, for example with balloon letters or numbers.
How many balloons are needed for a balloon arch?
How many balloons you need depends on:
the total arch length (height x width)
the balloon size and
the type of arch: single line, clustered or organic.
To calculate the number of balloons, check out my page with detailed instructions or get the free balloon arch sheet when you subscribe to Balloony News.  
So, how do you make a balloon arch?
Glad you asked. Here are some designs you can try. 

Check out this balloon arch step by step tutorial for a so-called "String of Pearls Arch." It's ideal for framing the head table at a wedding or to highlight the entrance to your party.

---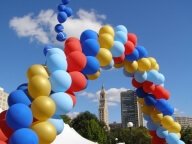 ---
---
This beautiful baby shower arch was designed by one of our readers. There are two methods how you can create this type of organic balloon arch.

---
Walking through this majestic Star Shaped Arch might really feel like entering heaven. That's why it's called "Celestial Arch".
It is one of our featured balloon decorating kits, and comes complete with metal balloon arch frame, pearl white balloons and instructions.