In my articles, I recommend products  to create your own balloon decorations. If you buy through one of those links, I receive a small commission. There is no additional cost to you. To learn more, please see my affiliate disclosure.
DIY Halloween Decoration: Make Your Own 'Spooky Bouquet'
This Halloween decoration is fairly easy to make, and a guaranteed eye-catcher for your kids party! There is such a large selection of Halloween themed balloons, both latex and mylar, that you can easily vary the look of your decoration from funny to spooky, or even really scary.

What you Need for your Halloween Decoration
Special Tip: To greatly increase the floating time of your latex balloons, we recommend the use of 'Ultra Hi-Float' (details here).

Ready for the 'Spooky Bouquet'? O.k., then let's start with inflating the first of your black balloons with helium. If you are using a 'Disposable Helium Tank' it should come with instructions. If you are using a regular helium tank, inflate the balloon as explained here.
Before you tie the knot, check the size of the balloon with the balloon sizer (fig. 1). The 'secret' of a professional looking balloon decoration is to make sure that the balloons are all blown up to the same size - that's what the balloon sizer is for.
Next, take about 1 m length of curling ribbon and attach it to the balloon neck, leaving around 30cm loose for curling (fig. 2).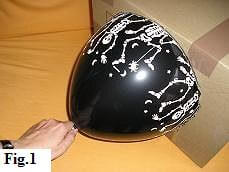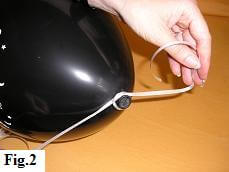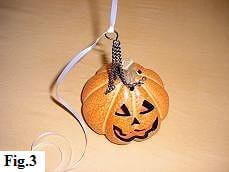 Now attach the other end of the ribbon to the base. The overall height from the base to the top of the balloon should be about 80cm. We tied our ribbons directly to the small hoop and chains, which are normally used to suspend the pumpkin (fig. 3).
Repeat these steps for the remaining two black balloons, making sure that all three balloons float at the same height (fig. 4). 
Just one more step, and your Halloween decoration is done!
Now inflate the semi-transparent balloon with the spiders now, knot it and tie it to the base, so that it is positioned in the center above the three black balloons. It should just slightly touch the black balloons (fig. 5).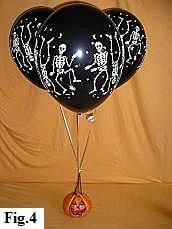 Your 'Spooky Bouquet' is finished! Feel free to substitute the central spider balloon with a mylar 'Jack O'Lantern', if you are not so keen on 'creepy crawlies'.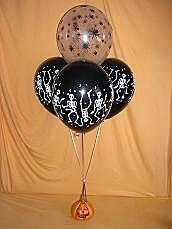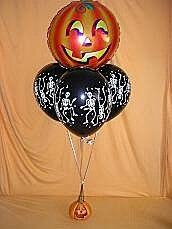 Now, let the party begin! To invite your guests in style, I recommend you choose some frightfully spooky Halloween themed party invitations!