Let's Work Together - Opportunities for Your Brand
Download my Media Kit to learn more about my audience and how we can work together.

Since 2006, BloonsUp (formerly Balloon Decoration Guide) has been a trusted resource for people who love decorating with balloons, whether professionally or as a hobby.
My core audience comes from the USA, United Kingdom, Canada and Australia. The majority are women between 25 and 44 years old. 
They are family focused, love to decorate their homes, enjoy shopping for party supplies, seasonal items and gifts for their spouses, friends and kids.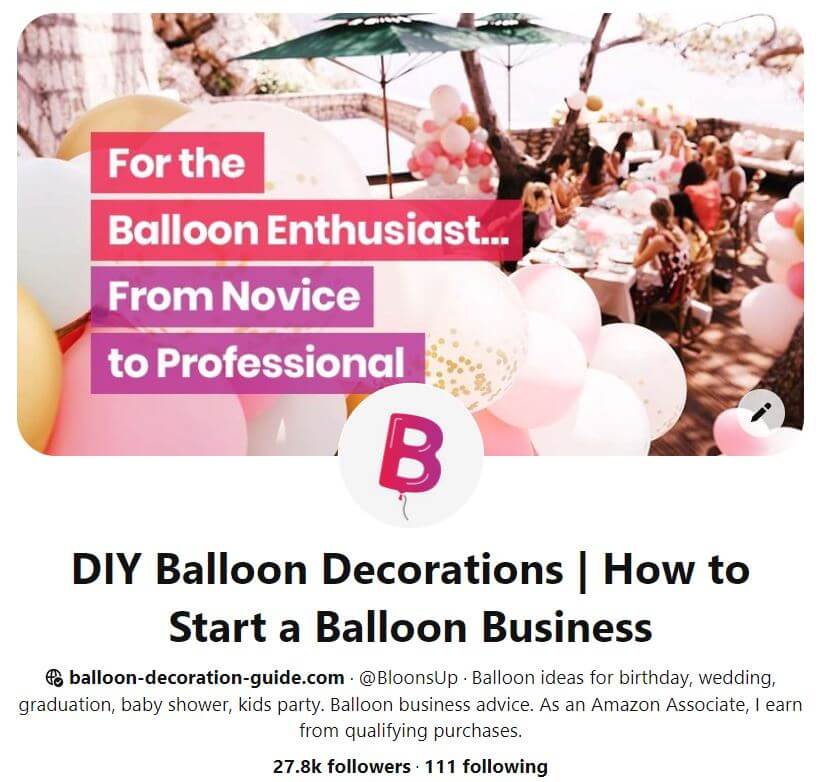 BloonsUp on Pinterest
Now Tell Me About You
Do you sell products or services that delight women because they help them... 
beautify their home,

make their birthday / dinner / summer parties unforgettable,
surprise their loved ones with a unique gift or
engage their kids in fun DIY and craft projects?
Yes? Then your brand and BloonsUp could be a match made in heaven.
If you also take pride in being the best in your niche and put your customers before profit, I would love to tell my audience about you.
Why Should You Work With Me?
Coming from a science background, my marketing motto has always been to "Keep it real."
I hate sneaky sales and marketing tactics. I strive to provide the best content for my readers. Every question gets answered. That's why my audience trusts me and my recommendations.
Since 1995 I've been in marketing one way or another. First as a local business owner. Then as AdWords Specialist at Google's European Headquarters.
Currently I am the Marketing Director for SiteSell. They created the system that helped me grow this site into a high-traffic online business. 
I only promote products I believe in. So, if your brand is a good fit, you can be sure to get a great ROI out of our partnership.
Download my Media Kit to learn more about my audience and the opportunities for your brand.
Or email me right now at ms[@]balloon-decoration-guide.com for an informational chat.
Pin it for later