4th of July Decorations With Balloons
Your 4th of July decorations won't be complete without a feast of red, white and blue balloons. Our ideas will inspire you to celebrate the most colorful Independence Day ever.
A lot of the celebrations take place outdoors, so a general rule is to go with air filled decorations on a fixed frame whenever possible.
If you make a purchase through a link on my site, I may receive a small commission at no extra cost to you. I only recommend products that I believe to have good value (affiliate disclosure).

Some more pointers for doing balloon decorations outdoors:
Don't use

pearlized colors

- they oxidize faster.


Choose light colors rather than dark ones (dark colors will pop more easily when the temperature rises) ... but of course you will have to go with red and blue along with white for the 4th of July.


Use the largest balloons possible and underinflate them by at least two inches (e.g. use 14" balloons if you want to blow them up to 11" size). Some balloon pros underinflate even more and report best results when they use 16 inch balloons inflated to only 10 inches.


Try to blow up the balloons at about the same temperature they will have to endure (e.g. inflate them in the sun if they will be in a sunny place).


Wrap poles and arch frames with white modelling balloons or duct tape. This prevents frames and poles from getting too hot.


Consider using balloon types or brands that are made of sturdier material than regular latex balloons. 17" Tuf-Tex balloons are regarded as one of the best balloon brands for outdoor use. Another option would be Qualatex Bubbles or Deco Bubbles.


Anchor your decor with heavy weights - at least quadruple the weight you would use for the same decor indoors.
Balloon Ceiling in Red, White and Blue
Our first idea however is for an indoor 4th of July decoration. One of the easiest and often overlooked ways to decorate a room is to inflate 11" latex balloons with helium, attach color matching curling ribbons to them and let them float beneath the ceiling.
Short on helium? Try one of these methods for hanging balloons from the ceiling without helium!
For a more professional look, use a balloon sizer to blow them all up to the same size.
All you need is a Patriotic Balloon Assortment, color matching curling ribbon and a Disposable Helium Tank.

If you'd let these balloons go, they would float up to the ceiling, covering it in a red, white and blue sea of balloons. © Lee Haywood
4th of July Decorations: Balloon Arch or Garland
The red, white and blue balloons will make a beautiful spiral pattern for your balloon arch. The DIY people can find instructions how to create a spiral balloon arch from scratch.
If you prefer to get a ready made kit, check out this patriotic balloon garland kit at Amazon. It comes complete with blue, red and white balloons, balloon tying tool, fishing line, balloon decorating strip and instructions.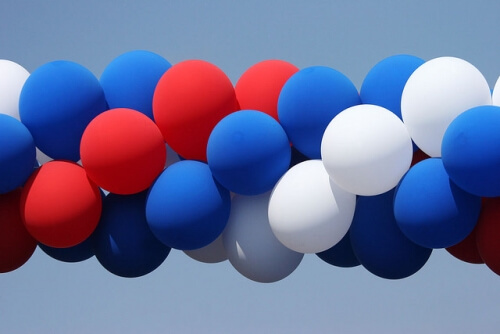 The red, white and blue balloons form an impressive spiral pattern on this balloon arch. © Dennis Hill
Balloon Balls or Clouds
As long as you have a lamp post, a ceiling beam or a tree branch to attach them to, you can make use of the stunning effect of these balloon balls for your 4th of July decorations.
They are made of three balloon clusters where each cluster has four balloons. Inflate the balloons with air and tie ribbons to their necks. Build clusters of 4 balloons with them as described on our "Spiral Column" page.
Then you need to put the three clusters of four balloons tightly together to achieve the ball shape.
Use one or two of the ribbons to attach the ball to the roof of your patio or a tree branch. Let the other ribbons hang down to get the nice "tail" effect as seen on the photo. 
You can find both plain and star patterned balloons for bargain prices at Amazon.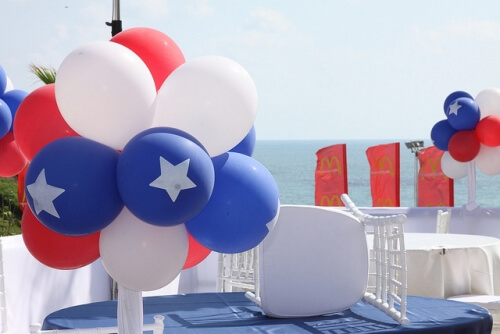 These red, white and blue balloon clouds give any venue a patriotic flair. © U.S. Embassy Tel Aviv
Patriotic Balloon Release
What could be a better highlight for your 4th of July Celebrations than watching hundreds of white, blue and red balloons rise to the skies ... as a powerful symbol for the freedom that arose on Independence Day.
I would strongly advise to hire a professional company to organize the balloon release. Not only will they have the right equipment (balloon net, high quality latex balloons, big helium tanks, race cards), but they will also know about the environmental impact and how to keep any negative effect to a minimum.
Additionally, you might need to get permission from the Civil Aviation Authority prior to the release.
NABAS (National Association of Balloon Artists and Suppliers, founded 1987 in the UK) has developed a Code of Conduct for Balloon Releases that everyone should strictly follow in order to minimize possible dangers for wildlife and damage to the environment.
We hope our little collection inspired you to create the most stunning 4th of July decorations ever!