Outdoor Balloon Decorations: Do's and Don'ts to Make Your Event Special

Professional balloon decor adds the ultimate "wow factor" to any outdoor event and special occasion. But how can you make your outdoor balloon decorations last for more than just a couple of hours?
The tips and examples here will help you avoid costly mistakes, whether you plan to create the balloon arrangements yourself or hire a balloon decorator.

First, let's look at the most popular occasions where outdoor balloon decorations are used:

Corporate events like grand openings or ribbon cuttings
Baby showers
Bridal showers
Wedding receptions
Bat mitzvahs 
Birthday parties
Themed events
If you make a purchase through a link on my site, I may receive a small commission at no extra cost to you. I only recommend products that I believe to have good value (affiliate disclosure).

What Types of Balloon Decorations Are Best for Outdoor Events?
As a rule of thumb, air-filled balloon creations on a sturdy frame are your best choice for outdoor conditions. 
Choose light colors over dark colors. Why? Dark colors absorb more heat, so the balloons expand and are more likely to pop than lighter colors.
In addition, dark colors show the effects of oxidation more than light colors. They lose their shine and appear "velvety," as if covered with powder. That isn't necessarily a bad thing. Just be aware that the balloons won't look the same after being exposed to outdoor conditions for a few hours.
Now let's take a closer look at each type of outdoor balloon decorations.
Balloon Arches
An outdoor balloon arch should be on a stable frame secured by heavy base plates on each side.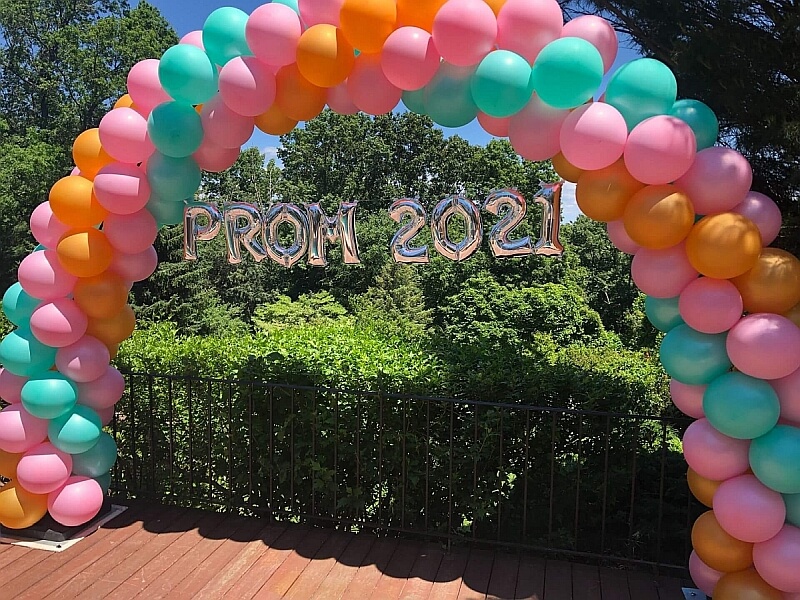 You can see the heavy base plates on both sides of this outdoor balloon arch. Image source: balloonartistry.com
Balloon professionals swear by the AeroPole system for arches and columns outdoors, especially in windy conditions. 
If you're looking for a cheaper alternative, I've found the HeyMate balloon arch kit to be of good quality.
Balloon Columns
Insider Tip: Wrap dark colored or aluminum poles and frames with white modeling balloons or duct tape. This prevents them from getting too hot.

Similar to arches, build your outdoor balloon column with a sturdy pole and base plate. 
When you make the balloon column stand yourself, use conduit with at least ½ inch diameter and reinforce the base with additional weight (e.g. with a steel plate or an iron round gym plate).
Balloon Garlands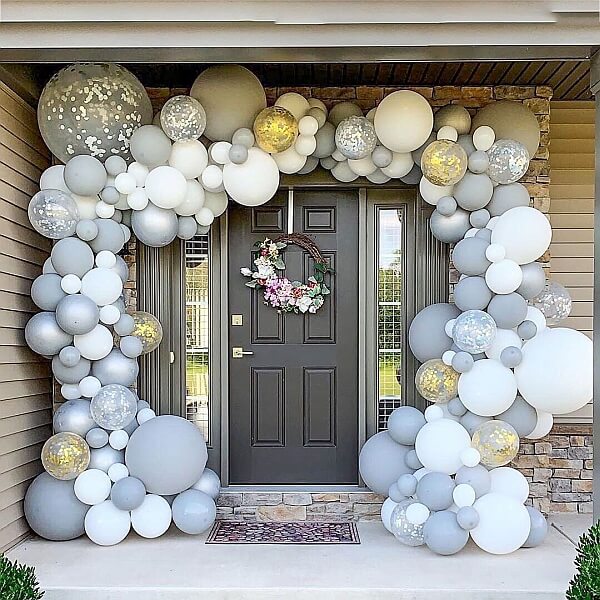 This gorgeous balloon arch kit is sold by ShimmerAndConfetti.com.
Organic balloon garlands are ideal for decorating any outdoor space, as long as you can attach the garland to an existing structure, like a doorframe, wall, fence, banister or pergola. Even trees can be embellished with a balloon garland!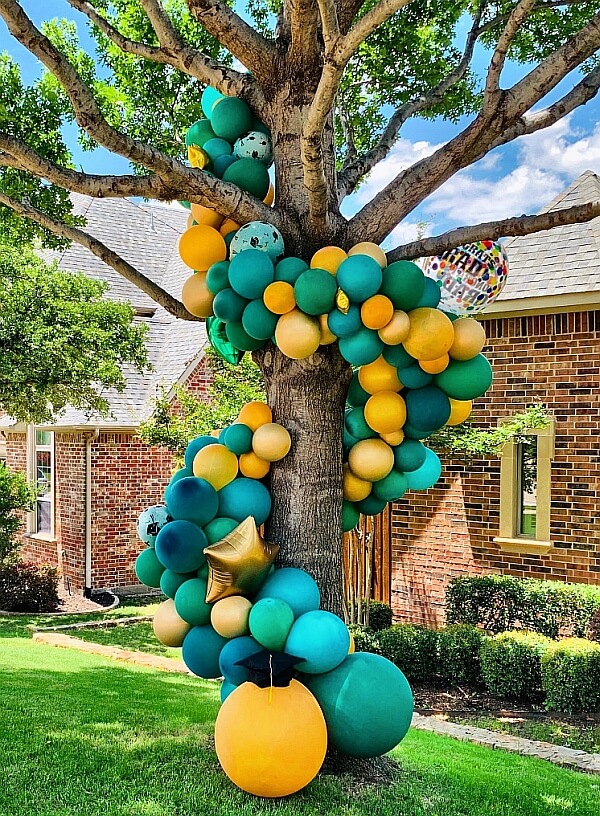 Unique outdoor balloon decor idea for a graduation party. Photo credit: celebrateitballoons.com
Balloon Centerpieces
Do not use helium balloon bouquets to decorate your tables in an outdoor setting. That's a big no-no! Even a light breeze will blow the balloons around and get their ribbons all tangled up.
Instead, choose air filled balloon centerpieces. Examples would be mini topiary trees or something really simple like two balloon quads with a foil balloon on top.
Wedding themed balloon topiary trees. Image source: balloonhappyaz.com
Insider Tip: Whatever type of centerpiece you choose, make the base heavy enough so that your creation doesn't topple over. For the balloon quads example shown in the image below, use a water or sand weight.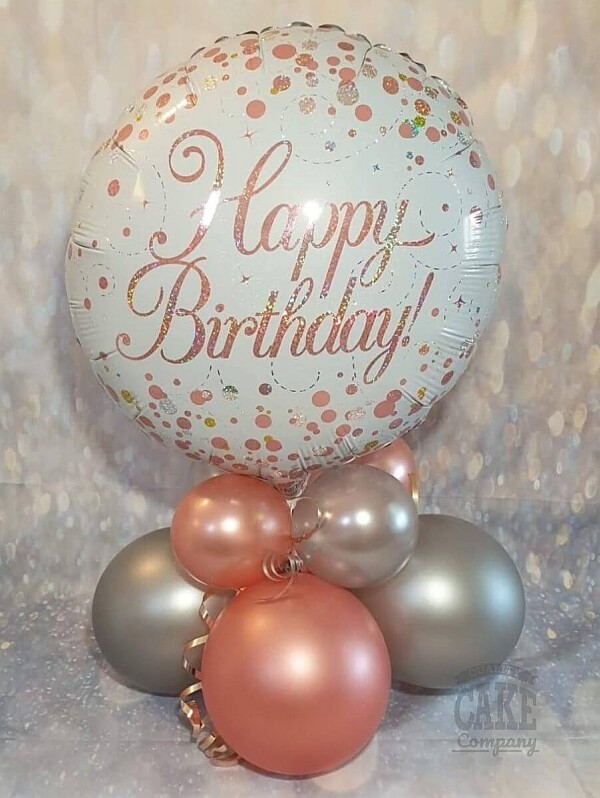 Super simple air-filled balloon centerpiece. Image source: qualitycakecompany.com
Balloon Walls
Want to add a photo backdrop with "wow factor" to your outdoor party? A balloon wall in colors that match your event's theme is just what you need.
Whether you love all shades of pink, rainbow colors or tropical flair, latex balloons offer so many colors -- especially if you include double stuffed balloons -- that you can achieve any look you desire.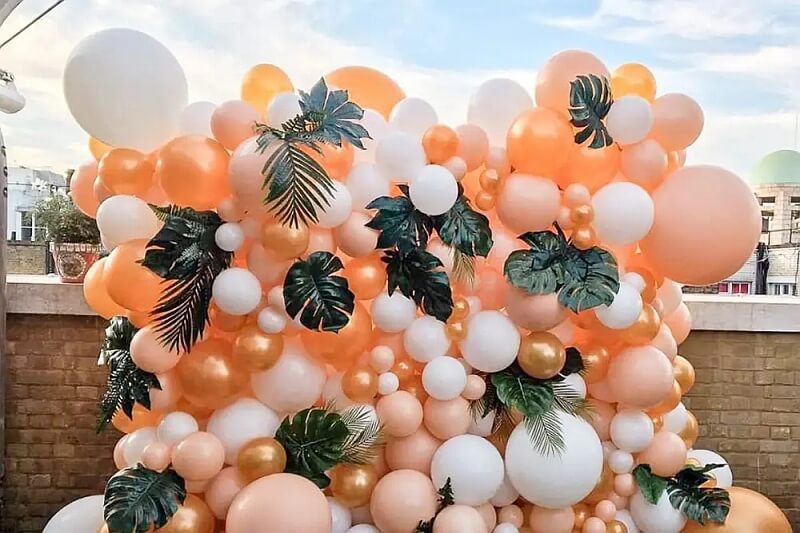 Outdoor balloon wall in apricot and white with leaves for a natural look. Pretty! Image source: hitched.co.uk
Balloon Sculptures
Another decoration highlight are large balloon sculptures. These work extremely well for themed events. Just think of characters from popular movies, bride and groom sculptures, props, balloon numbers and a lot more.
Planning a nautical theme? How about making an anchor out of balloons?
Beautiful yard art example, this balloon anchor made with navy blue chrome balloons and a golden chain. Image source: balloonguru.com
Balloon Drops and Balloon Releases
Please don't organize balloon drops or releases for your outdoor event. Not only are mass balloon releases illegal in many states, cities and communities around the world, they are also harmful to the environment.
Even though latex balloons are biodegradable, the material takes many years to decompose fully. When balloons are released into the open, they can be transported for large distances and often end up in our oceans. 
Sea turtles and other marine animals often mistake the colorful latex balloon fragments for shelly fish and ingest them. The balloon pieces can clog their digestive system and they starve to death. 
The strings attached to balloons are equally bad, perhaps even worse. They can become tangled around sea animals or birds, hindering them from moving freely, often causing them to die.
Sea turtle strangled by balloon debris. Image source: thedodo.com
Best Practices for Making Outdoor Balloon Decorations Last

When working with balloons outside, you'll face many challenges: sunlight, rain, wind, heat, cold, temperature changes and potentially sharp objects swirling through the air.
That's why balloon professionals usually add a disclaimer to outdoor balloon decor. Balloons will oxidize, some may pop and -- especially if exposed to direct sunlight -- the balloon decoration won't look good for more than half a day. 
I've written repeatedly about best practices to make outdoor balloon decorations last longer. Please check out these pages:
Best Brands of Outdoor Balloons
How to Prevent Balloon Decor from Popping in Outdoor Heat
When Can I Blow Up Balloons for an Outside Event?