If you make a purchase through a link on my site, I may receive a small commission at no extra cost to you. I only recommend products that I believe to have good value (affiliate disclosure).

How to Make a 
Balloon Stand for Columns
While you can get ready made balloon column stands from specialized suppliers and even at Amazon, why not try making one yourself?

This super short tutorial shows you how to make a balloon stand in just a few simple steps at home. 

What You Need for Your Balloon Column Stand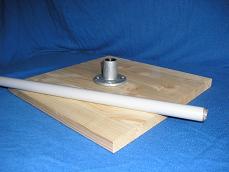 a timber board (e.g. plywood or blockboard), dimensions 12" x 12" x 0.8" (30cm x 30cm x 2cm)
1/2" pipe flange (metal)
threaded conduit or PVC pole; the length depends on the height of the column; in our example the PVC pole is ca. 6.5ft (2 m) long
screws for attaching the flange to the timber base and a matching screwdriver
fine sandpaper
You should be able to get all these items inexpensively at your local DIY or hardware store.
How to Make the Balloon Stand
First, make sure that your timber board has no sharp edges or rough patches on the surface. If necessary, smoothen those with fine sandpaper. 
Find the center of the board by marking out two diagonal lines from corner to corner (fig. 1).
Place the 1/2" pipe flange in the center and screw it into position (fig. 2). 

Now screw the conduit into the flange (fig. 3) and that's it! Your DIY stand for your balloon tower is finished. 
That was incredibly easy, right? And you can of course reuse this balloon tower stand, as long as you pick it up from the venue after the event. 
Now you are all set to create a beautiful spiral balloon column with the help of our step-by-step tutorial.