How to Make a Base for 
Balloon Columns
Air filled balloon columns need some constructional elements: a sturdy base and a pole. You can get ready made bases from specialized balloon suppliers, or you could make them yourself - we show you how to do it in a few simple steps.

What you need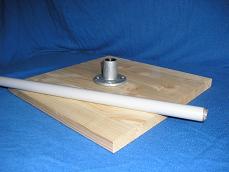 a timber board (e.g. plywood or blockboard), dimensions 30cm x 30cm x 2cm,
1/2" pipe flange (metal),
threaded conduit; the length is dependent on the height of the column, but a couple of meters should be more than enough and
screws for attaching the flange to the timber base.
You should be able to get all these items at your local DIY or hardware stores (unless you live in Germany, as we do, where it takes you at least half a day, several shops and nerves of steel to get what you need ...).
Take your 1/2" pipe flange and place it centrally on the timber base. You can find the center of the board by marking out two diagonal lines from corner to corner (fig. 1). Then screw the flange into position (fig. 2). 
Now screw the conduit into the flange (fig. 3) and that's it! Your DIY base is finished.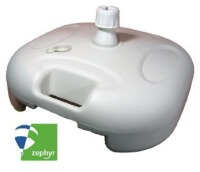 Beginner's Tip: If you don't want to make the balloon column base yourself, you can buy this ready made base and the matching poles at Amazon.