21 Spectacular DIY Wedding Balloon Decorations - Why Settle for Less?

Balloon decorations seem to pop up everywhere in the wedding scene: at engagement shoots, bridal showers, during the church ceremony, and - of course - at the wedding reception. 
And, why not? As kids we all embraced balloons, so why shouldn't the modern bride and groom do the same? 
We've put together a whole list of magically beautiful wedding balloon decorations. Some of them you could even create yourself (or get your fiancé to do them for you!).
If you make a purchase through a link on my site, I may receive a small commission at no extra cost to you. I only recommend products that I believe to have good value (affiliate disclosure).

Let's dive right in. First up, balloon arches. Among all wedding balloon decorations, arches may be the most versatile. Whether to highlight the entrance to the wedding venue, frame the head table or create a fairy-tale accent for the cake table, there's a balloon arch for that.
Wedding Balloon Arches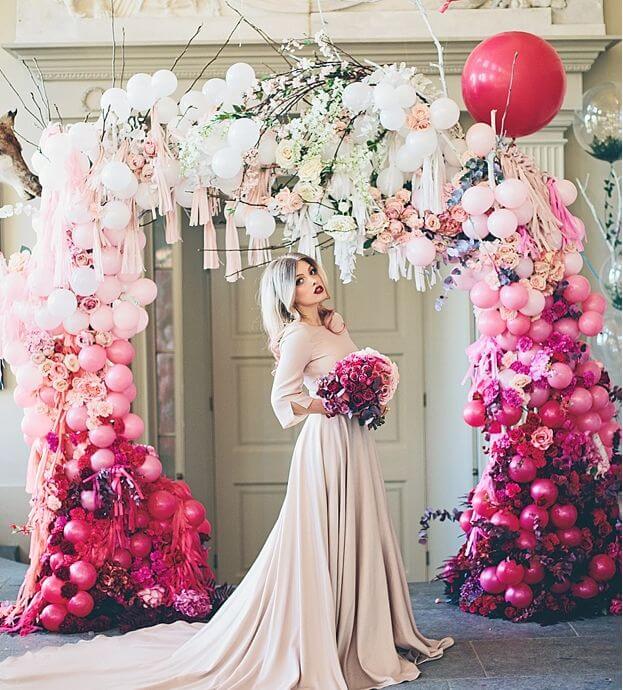 Talk about creating a spectacular entry for the bride! This ombre pink organic balloon arch belongs into the hall of fame of wedding balloon decorations.
Photo source: Mr and Mrs Unique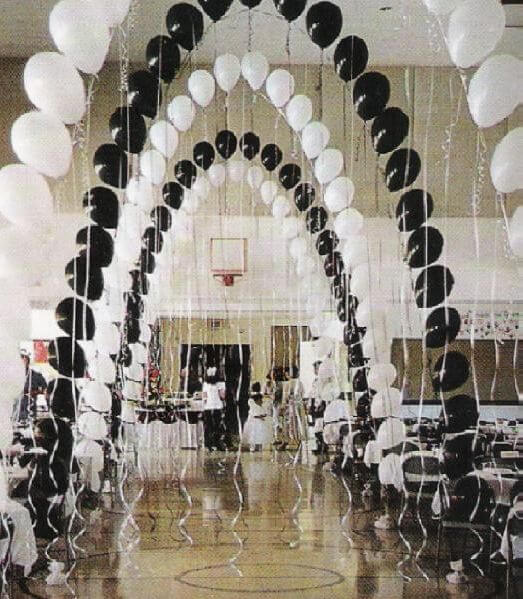 The classic string-of-pearls arch used in a different way. In stylish black and white, this decor creates an elegant setting for the newly weds.
This kind of single line floating balloon arch is fairly easy to make, especially if you follow our detailed step-by-step instructions.

Image source: Party Tally
Set a romantic highlight for your wedding cake table with this rose and white colored arch. Love it how the tiny latex hearts run along both sides of the arch. The ivy garland is another nice touch.
Image found on Pinterest.
Wedding Balloon Decorations: Columns
These impressive pillars made of balloons are best used as eye-catchers besides the entrance or head table.
They also make a great decoration for the dance floor or stage, especially in combination with balloon arches.
Floral elements, like ivy, or strings of lights woven into the column add a wonderful romantic touch. 
Click here if you'd like to try building one of these heavenly balloon pillars yourself.

Another beautiful example, with the classical "Just Married" slogan on the large topper balloon. Bottom and upper parts in these pillars are made of round latex balloons in different sizes.
Sturdy columns like this, with a pole and heavy base plate, are great examples for outdoor balloon decorations.
Wondering how to create the middle part? The video below shows you which balloons to use and how to wrap them neatly around the pole.
Photo source: Pinterest
Lovely wedding balloon decorations for a small church, carefully color coordinated with the carpet and floral decor.
Photo found on Pinterest.
Wedding Balloon Centerpieces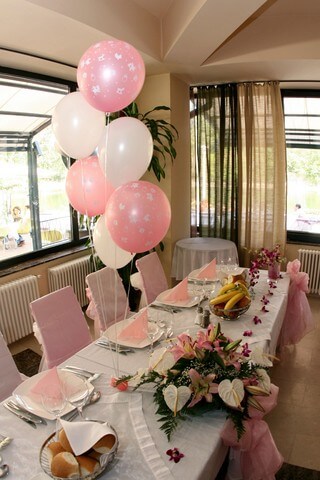 Balloon bouquets with 3 or more latex balloons or a combination of latex and mylar balloons are the stars in this category of wedding balloon decorations. 
Why? First, because they offer countless variations in color, style and type of anchor. 
Secondly, they are also ideal as table centerpieces because the balloons float above the table, thus not restricting the guests' view. 
Last, but not least, they are affordable and rather simple to make yourself.
To create a staggered multi-balloon centerpiece as shown in the picture, follow our tutorial for the "Balloon Bouquet Simple & Elegant."
Isn't this a gorgeous balloon centerpiece? I love it how they use those pastel colored paper hearts for the strings and as confetti in the clear deco bubble balloons.
Are you a bride who can't decide between floral or balloon decorations? With this centerpiece you get both!
Image source: Pinterest
INSIDER TIP: I get sometimes asked if you can use hi-float with a deco bubble balloon, either to extend their float time, or to make confetti stick to the inside of the balloon.
The short answer is no. For a longer answer, including a link to a Qualatex video showing how to make deco bubbles, please click here. 

Another sensational balloon and flower combo. Having the balloons float in different heights contributes to the casual, yet stylish look. This type of decoration works well in a garden or country setting.
Image source: Brides
These large balloons are simply irresistible, especially in these bright, joyful colors. An excellent idea for your head table decoration. 
Image source: Lets Party With Balloons
If you prefer air-filled designs for your wedding balloon decorations, a balloon topiary may be the right choice.
These are like mini trees with a cluster of small balloons on the top, a sturdy trunk and a matching base, often also decorated with small balloons. Alternatively, you can use a flower pot as the base.
Image source: Balloon Happy AZ
Another gorgeous balloon topiary design. Pretty in pink!
Image source: Balloon Happy AZ

Want to make a balloon topiary yourself? Here's one of the best videos I found with step-by-step instructions:
Whatever balloon centerpiece idea you go for, you will need a matching table base, that means the anchor or weight where you attach your balloons to.
There is a huge variety of balloon weights commercially available: simple star or heart shaped forms, mini gift bags or gift boxes, glittering hats, champagne bottles, iridescent foil weights, etc.
If you want a more personal touch, you can prepare the bases yourself. Ideal materials are small balloons, tulle, ribbons, crystal plates and - of course - flowers.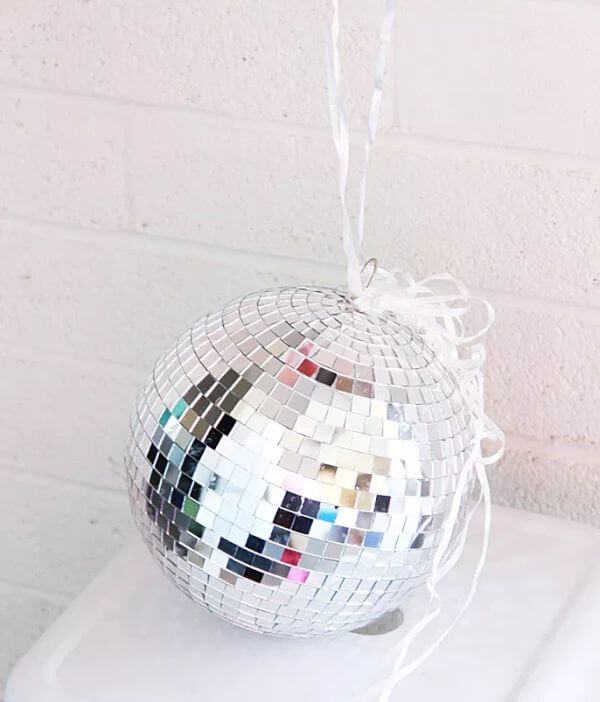 Clever and beautiful: use a disco ball to keep your balloon bouquet in place.
Image source: A Bubbly Life
For those of us who still possess vinyl records - they can be used as balloon weights. Another simple and creative idea.
Image source: One Love Photo
Wedding Balloon Sculptures
The most popular designs for wedding balloons sculptures are of course the bride and groom figurines. 
You will find small table top models as well as life size sculptures. Some brides & grooms are made entirely of round balloons, some only of twisting balloons and some use a combination of both balloon types.
I personally think that combining round and twisting balloons gets the most stunning results, but you might have a different taste.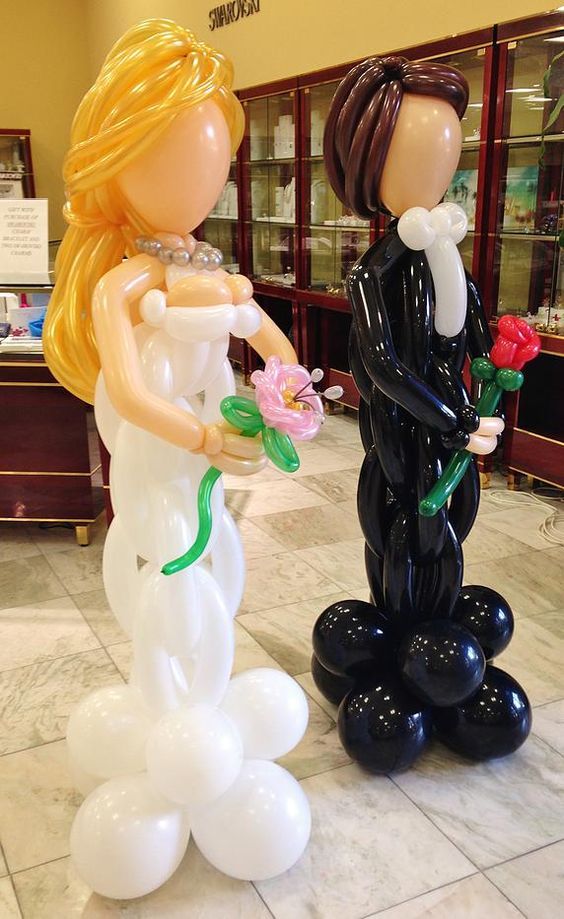 Life sized bride and groom sculptures, with a combination of round and long balloons. The bride shows quite a cleavage. ;-)
Photo source: Creative Balloons by Cathy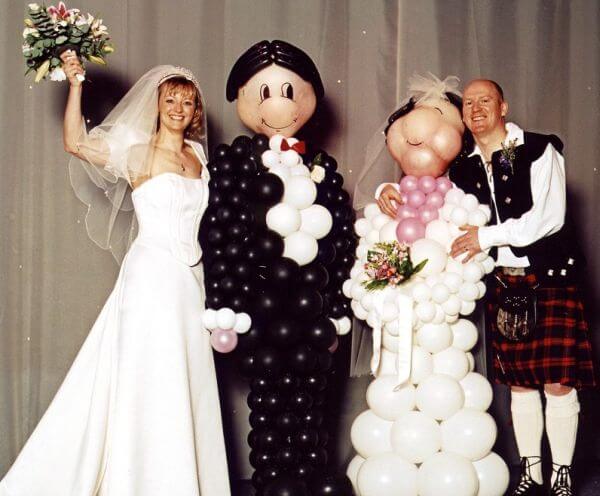 Bride and groom with a Scottish twist! 500 balloons and 8 hours of work go into creating these impressive life-sized sculptures.
Image source: Balloon A Loony
You may kiss the bride! Really clever how the balloon artist used the balloon necks to imitate a real kiss. 
Photo found on Pinterest.
Bride and groom as a table top decoration. Lovely detail: the bride's dress is made with heart shaped latex balloons.
Photo and instructions can be found at The Very Best Balloon Blog.
Another sculpture you might see at weddings is a champagne bottle with an explosion of bubbles showering into an arch. Often times the bottle used in this design is a 6' tall inflatable copy of a real bottle.
But I've also seen examples where all elements of the champagne bottle decoration were made of balloons: the bottle, the shower of bubbles and the glass where the bubbles are poured into. Amazing!
Want to create a spectacular entrance to your wedding venue? These champagne bottles with the golden bubbles flowing out won't disappoint your guests.
Image source: Balloon Shop
In this example, the champagne bottle is also made with balloons. Both the bottle and the end of the bubbly fountain are secured with balloon column stands. 
Photo source: Bklynfavors
Balloon Ceilings
Balloons hanging from the ceiling have become a popular choice for wedding reception decor, adding a touch of whimsy and fun to the celebration.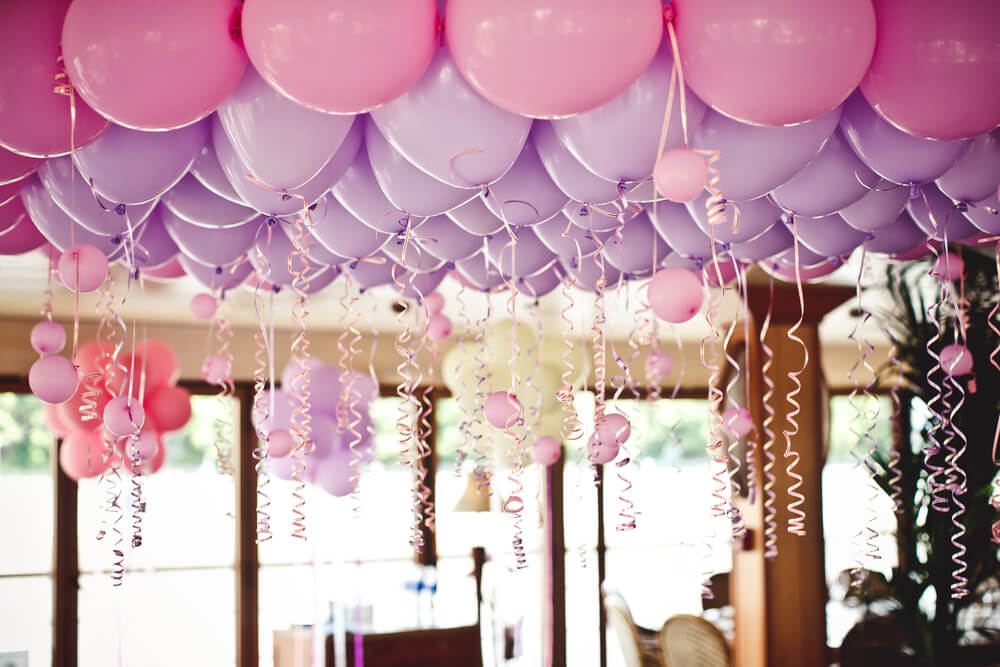 Imagine how this spectacular balloon ceiling would "wow" your wedding guests!
Balloon ceilings create a stunning visual display that leaves a lasting impression on your guests.
Whether you choose to incorporate elegant white balloons, pastel tones or colors that match your wedding theme, a balloon ceiling beautifully expresses the central thought of every wedding ceremony...
Love is in the air.