In my articles, I recommend products  to create your own balloon decorations. If you buy through one of those links, I receive a small commission. There is no additional cost to you. To learn more, please see my affiliate disclosure.
Wedding Balloon Decorations:
Beautiful & Affordable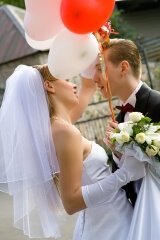 © Kornilovdream| Dreamstime.com
Are you unsure which wedding balloon decorations to choose for your wedding reception? We hope that our ideas will help you decide. 
To make your planning as easy as possible, we've put together all the information you need to know:
An overview over the most common types of wedding balloon decorations,

A directory of highly qualified balloon decorators in different parts of the world,

Step-by-step instructions for arches, columns and centerpieces, should you decide to decorate yourself,

A photo gallery for inspiration and to submit the highlights of your wedding balloon decoration.
Enticing, attractive and irresistible, balloons are a good way to symbolize life and relationships. Balloons are festive, colorful, and fun. They perfectly set the tone of love and can turn any wedding reception site into a wonderland because of their soft, silky textures… dazzling colors… opulent contours and shapes and, of course, bodies that beg for your touch.

Wedding balloon decorations may acquire many roles in the ceremony itself, as wedding balloon arches, impressive columns, delicate bouquets or life size sculptures of the bride and groom. They can also include balloons which will burst in a confetti shower, or ones with sparkling lights that can be strung around the room like those mentioned in fairy tales.

If you choose to hire a professional balloon decorator for your wedding balloon decorations you might want to have a look through our directory of highly qualified decorators in Ireland and the UK, Canada and the US, Australia or the rest of the world.
Common types of wedding balloon decorations
Whether you are looking for a wedding arch decoration or wedding reception table decorations, balloons will make them unique and elegant.

Wedding Balloon Arches
Making balloon arches is a perfect way to add flair to your celebration. They are fairly easy and cost-effective to create and provide the newly weds with a tunnel through which they pass in order to get to their places.
Read on for step-by-step instructions for a "String of Pearls" Balloon Arch.
Wedding balloon columns
These impressive pilars made of balloons are best used as eye-catchers besides the entrance or head table. They also make a great decoration for the dance floor or stage, especially in combination with balloon arches.
Floral elements, like ivy, or strings of lights woven into the column add a wonderful romantic touch. Read on for step-by-step instructions for a Spiral Balloon Column. 
Wedding balloon bouquets
A helium balloon bouquet comprising of the color scheme of your wedding set at the entry table with the guest book would add a nice touch, allowing your guests a sneak peak of the colors you have chosen for your wedding. You can also bundle balloons together using string, attaching them to a large bow made of tulle. You can then affix them to the pew or isle chair placed in the main ceremony hall.
Wedding reception table decorations with balloons
Making your own centerpieces for the tables at your wedding reception is an economical way to impress your guests. Balloons are perfect because they float above the table, thus not restricting the guests' view. Ideal types of decorations are again balloon bouquets with three, four or more balloons or a combination of latex and mylar balloons for additional effect.
Another option would be a so-called 'topiary'. Balloon topiaries are tree like sculptures with a base, a stable "trunk" and a top made of air filled small balloons.
Whatever balloon centerpiece you go for, you will need a matching table base, that means the anchor where you can attach your balloons to. There is a huge variety of balloon weights commercially available: simple star or heart shaped forms, mini gift bags or gift boxes, glittering hats, champagne bottels, iridescent foil weights, etc. If you want to get a more personal touch, you could prepare the bases yourself. Ideal materials are small balloons,tulle, ribbons, crystal plates and - of course - flowers.
Read on for step-by-step instructions for a balloon bouquet with three latex balloons and for a matching table base.

Wedding balloon sculptures
What springs to mind first here are the various Bride & Groom balloon designs around. You will find small table top figurines as well as life size sculptures. Some brides & grooms are made entirely of round balloons, some only of twisting balloons and some use a combination of both balloon types. I personally think that combining round and twisting balloons yields the most beautiful results, but you might have a different taste.

Another sculpture you might see at weddings is a champagne bottle with an explosion of bubbles showering into an arch. Often times the bottle used in this design is a 6' tall inflatable copy of a real bottle. But I've also seen examples where all elements of the champagne bottle decoration were made of balloons: the bottle, the shower of bubbles and the glass where the bubbles are poured into. Amazing!
One of the companies who does this kind of wedding balloon decorations is Balloon A Loony in Falkirk, Scotland. Please check out their balloon decor gallery for some stunning examples.
To get you inspired, we've started our own wedding balloon decoration photo gallery. How about having YOUR photo featured there as well? Don't be shy, on your wedding day showing off is definitely allowed.
To sum up, decorating your wedding with balloons is an easy but smart method to be creative and save money.So, why not challenge yourself to some do it yourself wedding decorations with balloons?
And finally, as the celebrations end, instead of bird seed or bubbles, you can have a balloon release. As you leave, your guests release colorful balloon bunches in the air (for environmental reasons, remove all strings first and release latex balloons only). By letting the balloons go up to heaven, you are metaphorically symbolizing the saying of "couples are made in heaven".
After all, love is in the air.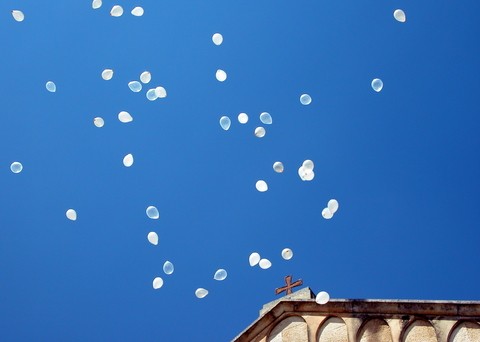 © Robert Gulyas | Dreamstime.com