Balloon Sizer - Two Easy Ways to Measure Balloon Size
Are you wondering how to measure a balloon's size? The best way is to use a balloon sizer. But I'll also show you a super simple alternative -- so, keep reading!
What is a Balloon Sizer?
A balloon sizer is a plastic, wooden or cardboard box with circular cut outs corresponding to various balloon sizes. The measurements of the holes usually range from 2 inches to 11 inches.
Most of the commercially available balloon sizers are collapsible for easy storage and transportation.
You can get them from balloon suppliers or from Amazon (see the two examples below).

How to Make a Balloon Sizer Yourself
You can also easily and inexpensively make a cardboard balloon sizer box yourself.
Take a square cardboard box, and mark out circles according to the sizes of the balloons you are going to blow up. To mark the circles, use either a compass or various household items with fitting diameters.
Then, using a sharp craft knife, carefully cut out the center of the circles. Put a cutting mat or - if you don't have one - an additional piece of cardboard underneath the layer where you are cutting out the circles.
Otherwise you may accidentally cut through the opposite side of the cardboard box, or damage whatever surface you are working on.
Confused? Watch the tutorial video and it will become clear! Morgan, the lady who created the tutorial, also offers a printable balloon sizer template in her Etsy store.  It isn't free, but $3.50 seems a reasonable price for an instantly downloadable template.
How Do You Use a Balloon Sizer Box?
Whether you buy one or make your own, the principle is the same.
When inflating with air: blow up the balloon to a larger size than your desired final size. Then hold it against the appropriate hole in the balloon sizer and let out air until the balloon passes through the hole, slightly touching the sides of the hole.
When inflating with helium: considering its high cost, you want to waste as little helium as possible. Ideally, you'd be using a helium tank with an extension hose so that you can inflate the balloon while holding it within the appropriate hole (see the image below).
If the helium tank doesn't have a long enough extension hose, inflate in intervals, measuring often so that you don't "overshoot."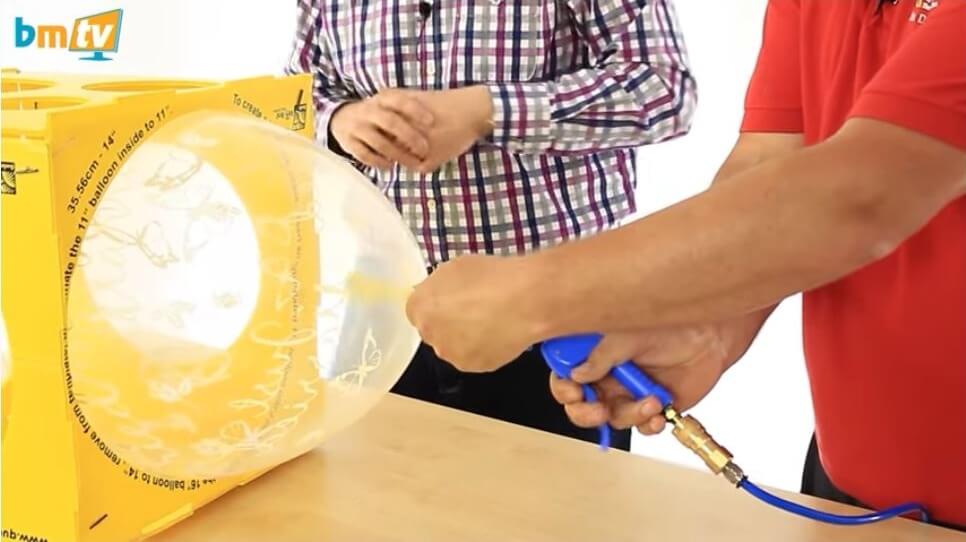 Pro tip: inflate your balloon with helium while holding it within the appropriate balloon sizer hole. [Image is a snapshot from a Balloon Market TV video.]
Simple DIY Balloon Sizer Alternative, Using Two Chairs
Another easy way to achieve balloons of the same size is to take two chairs and set them up back to back, so that the distance between them equals the desired size of the balloon you are inflating.
The inflated balloon should pass between the chairs just slightly touching either side.