Letter Balloon Decorations
Letter Balloon Decorations:
4 Eye-Catching Display Techniques with Helium or Air
You know what to look for in balloon letters and where to get them at the best price. Now it's time to wow your guests with creative letter balloon decorations.

If you make a purchase through a link on my site, I may receive a small commission at no extra cost to you. I only recommend products that I believe to have good value (affiliate disclosure).

Letter Balloon Decorations: Transform Any Space With These 4 Display Ideas
Tip: Find a shop that sells inflated foil balloons in your local area, or a professional balloon decorator and ask them if they could inflate the balloons for you, either with helium or air. This is an easier and cheaper solution than buying the necessary resources yourself.

First you need to decide whether you want to fill the Megaloons (as the most common brand is called) with helium or air. Helium filled balloons are easier to arrange, as they float.
On the downside, the cost of helium is quite high... and you need a lot of it to fill the giant letters or numbers. A disposable helium tank for 50 x 9 inch latex balloons fills only two to three balloon numbers or letters. The cost for one tank is about $70.
A cheaper and more environmental friendly alternative for filling balloon letters with helium would be to rent a helium tank.

To fill the balloon letters with air, you have three choices:
Use a straw and blow them up with your mouth
Use a balloon hand pump
Use an electric balloon pump that has small nozzles, like for example this AGPTEK Dual Nozzle Inflator

Ready? Let's explore four ways to create stunning letter balloon decorations...

Suspend the Balloon Letters from the Ceiling with Fishing Line (Air-Filled)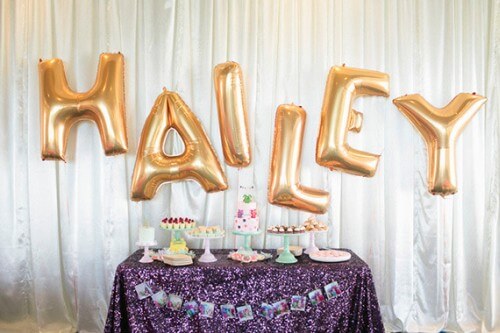 Balloon Letters Suspended from Ceiling [Image source: Aliexpress.com]
For this type of letter balloon decoration, you would fill the balloons with air. The trickiest part is to find a way to attach the fishing line to the ceiling. Many balloon decorators use removable command hooks or tape to do this.
As the fishing line is almost invisible from the distance, the letters will look like hanging in mid air.

Create a Letter Balloon Arch (Helium Filled)
String-of-Pearl Arch with Balloon Letters [Image source: partydecorationsbyteresa.com]
To create this floating balloon letter arch, you'll need to fill the balloons with helium.
Attach the letters or numbers to a fishing line that spans between two heavy weights. Take a look at our balloon arch step by step tutorial for instructions.  

Attach Each Letter to an Anchor (Helium Filled)
Megaloons with Anchors [Image source: hmvm.co.uk]
Attach each helium filled Megaloon with a string or fishing line to a balloon weight on the floor or on a table.
You can either buy ready made weights or make them yourself, following our instructions for a sand filled balloon weight. This type of base would be heavy enough to keep your letters in place.

Attach the Balloon Letters Directly to the Wall (Air-Filled)
Balloon Letters Attached to a Wall [Image source: aliexpress.com]
The fourth method for transforming your space with letter balloon decorations is to attach the letters directly to the wall. This is another air-filled decor type.
The easiest way to stick them to the wall and make them stay there is using a product called "Glue Dots." 
Make sure to choose the removable ones unless you want to keep your decoration there for ever! 
There are several other methods for sticking balloon letters to a wall, as explained in my FAQ section at the bottom of this page.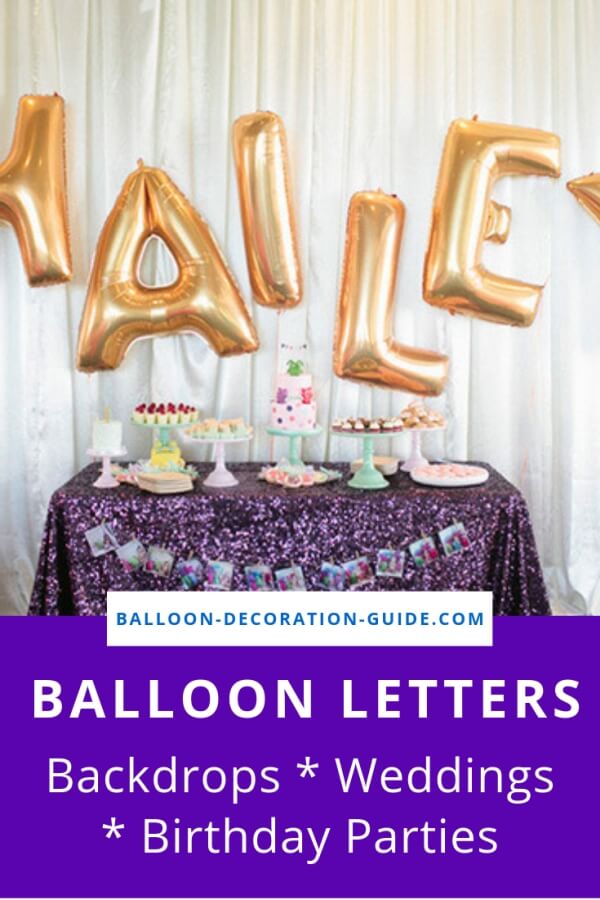 Enjoyed these tips for creating balloon letter decorations? Pin them for later! [Image source: Aliexpress.com]
Balloon Letter Decorations FAQs
Yes, you can use letter balloons again. Reusing is good for the environment and your bank account. 🙂

Letter balloons are made of foil, which is a durable material that can be inflated and deflated multiple times as long as the self-sealing valve does not get damaged. 

To reuse a foil balloon, you will need to deflate it first. Carefully insert a drinking straw into the inflation tab of the balloon between the two layers of plastic. Be sure to insert the straw all the way in. Slowly squeeze the balloon until all air is removed. 

Once the balloon is completely deflated, fold it up and store it. When you are ready to use the balloon again, fill it up with air or helium.

Here are some tips for reusing foil balloons:

Store the balloons in a cool, dry place.

Avoid exposing the balloons to direct sunlight or heat.

Be careful not to puncture the balloons.

With proper care, you can reuse foil balloons for many events to come.
There are two ways to fill balloon letters: with air or with helium.

Filling with Air


Choose between using a straw, manual balloon pump or electrical balloon inflator with a small nozzle.
To use a balloon pump, insert the nozzle of the pump into the opening of the balloon and inflate the balloon until it is full.
To use a straw, insert the straw into the opening of the balloon and blow into the straw until the balloon is full.

Filling with Helium

To fill a balloon letter with helium, you will need a helium tank and a foil balloon inflation adapter.
Attach the inflation adapter to the valve of the helium tank and insert the nozzle of the inflation adapter into the opening of the balloon.
Turn on the helium tank and the balloon will inflate.
The best way to get letter balloons to stay together is to use UGlu Dashes. You can buy them on sheets or on a roll. 

Remove a few UGlu Dashes from the sheet. Place them on one of the letter balloons, at the spot where you want to attach it to the second balloon letter. Three or four dashes should be sufficient, depending on the size of the balloon letters. 


Remove the back paper from the adhesive UGlu Dashes. Press the balloons together firmly, aligning them to form the desired word or pattern. 


The UGlu Dashes provide a strong adhesive bond and will keep the balloons securely attached to each other.
There are many different options for sticking foil balloons to the wall. Some materials are sticky on both sides, so you can apply them directly onto the balloon, such as:

But there are also one sided tapes you can use. Cut a medium sized strip of tape, wrap it into a circle — sticky side out — and stick it to the balloon:


Some options are more cost effective (e.g. balloon glue, packing tape) while others are more wall safe (e.g. painters tape, Command strips).


Don't use craft putty (not sticky enough) or duct tape (damages the wall).


Finally, here's a great way to arrange balloon letters (or numbers) along a wall without having to stick each balloon individually to the wall: 


Hang a string (or fishing line, twine or ribbon) across the wall, using Command hooks, and attach the balloons to the string with mini clothespins.