DIY Balloon Arch Without Helium
DIY Balloon Arch Without Helium: Easy Step-by-Step Tutorial
There are many ways to make a balloon arch without helium. Let's take a quick look at the different types of balloon arches and then jump straight into our tutorial.
If you make a purchase through a link on my site, I may receive a small commission at no extra cost to you. I only recommend products that I believe to have good value (affiliate disclosure).

Different Types of Balloon Arches Without Helium
With frame vs without frame:
With a frame you either buy a balloon arch kit or make a DIY frame with various materials, such as PVC pipes, lamp bases and poles. Instead of using a frame, you can create a no helium arch by tying the clusters tightly together with string or ribbon. 
Read on, because that's the method you're going to learn in this tutorial!
Classic vs organic:

A classic style balloon arch uses uniform sizes of balloons and is usually uniform in color and design. You can spiral colors or designs as well. 
Organic style uses balloons in varied sizes, colors or shades of colors to accomplish an organic look.
Link-o-loon arch:

Link-o-loon or quick link balloons are round latex balloons with a built in non-inflating tail designed to attach with other link balloons easily. See these tips for working with link-o-loons when creating an arch or garland.
Materials for a DIY Balloon Arch Without Helium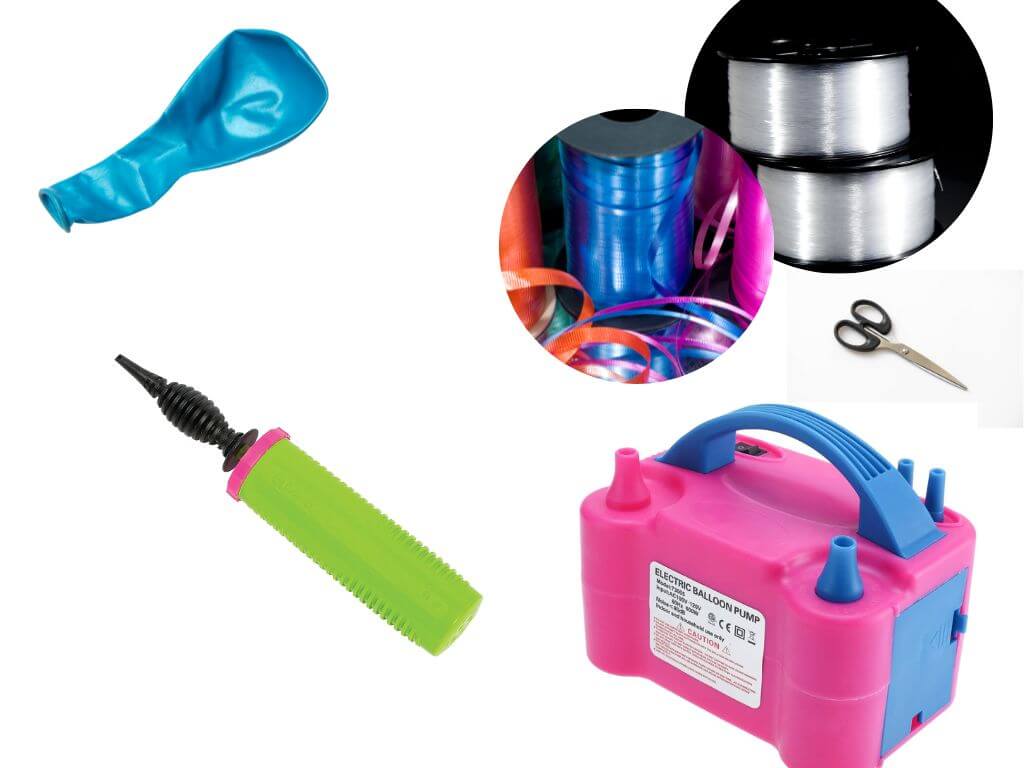 What You Need for Your No-Helium Balloon Arch
First, determine how many balloons you'll need for your arch. To estimate the total arch length, measure heights and width of the place where you're planning to put your arch and add them together.
For this tutorial, I am using a doorway that is 100 inches across and 80 inches high on each side for a total of 260 inches or about 22 feet (6.70 meters).

We will use a rough estimate of 2 quads per foot.

8 balloons x 22 feet = 176 Balloons*
* I like to overestimate the number of balloons needed. Other balloon pros calculate 6 balloons per foot.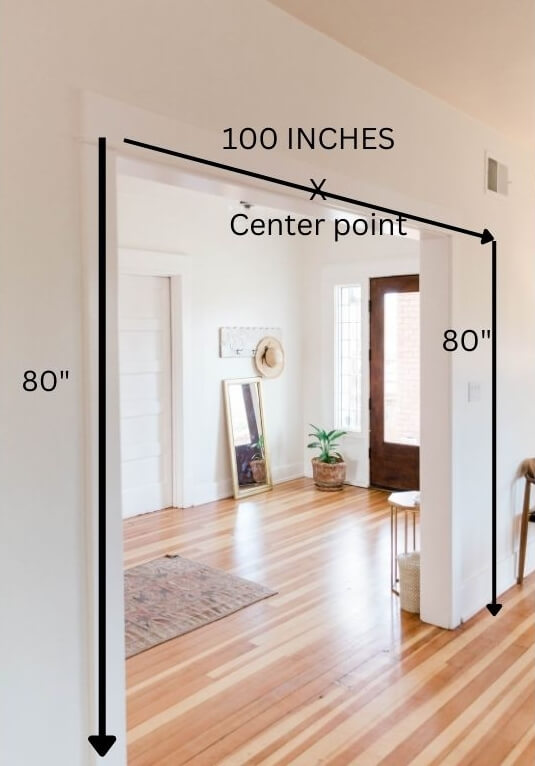 Steps for Making a Balloon Arch Without Helium Gas
Step 1: Inflate the balloons and tie to duplets
Inflate the balloons to the same size and tie two together into a cluster commonly called a duplet, or double or twin.
To tie the balloons together, lay one neck over each other and tightly wrap each neck around the other and secure with a half knot/over under tie.
You can slightly over inflate the balloons and stretch the necks gently to elongate them and make them easier to use.
Good to know:
Some balloon pumps have multiple nozzles to inflate balloons at the same time and rate.

Some pumps have an automatic timer. You can also use a balloon sizer sold at many balloon supply businesses.
If you don't want to invest in a balloon sizer, cut a hole in cardboard or space two chairs apart to ensure each balloon is the same size.
Step 2: Twist duplets together to create quads
After you have inflated all the balloons, twist two duplets together to make a four/quad cluster. Lay balloons flat.
Repeat until all balloons are quad clusters.
Step 3: Tie the ribbon to the first balloon quad
Get your string, fishing line or ribbon and tie one end to a quad of balloons near the knots. This will be the bottom quad of your arch.
Step 4: Attach all the balloon clusters to the string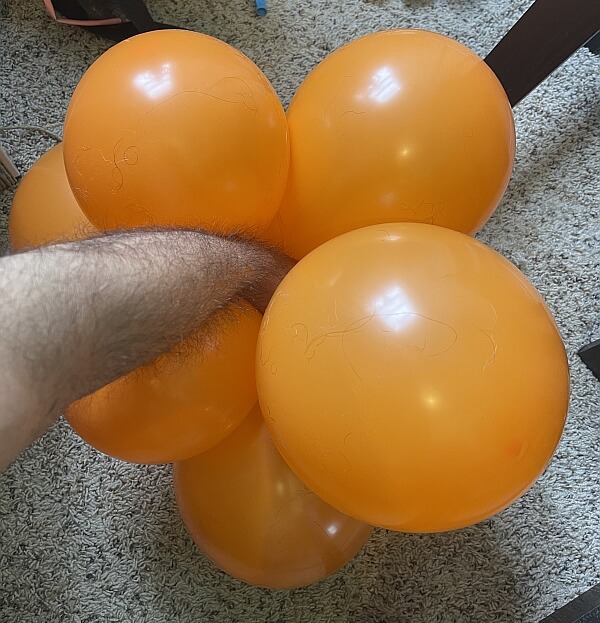 Place another quad on top of the first quad, aligning the centers of the quad clusters. Rotate the balloons clockwise for about half a balloon, so that the balloons of the second cluster fit into the gaps between the balloons of the first cluster.
While holding the balloons in place tightly, wrap the ribbon or fishing line in a figure eight pattern around the second quad and tighten in the center, securing it in place.

Place each quad tightly to the previous and repeat securely wrapping the ribbon or line around each cluster.
Repeat until all quad clusters are used. Tie off the end.
Step 5: Make two balloon weights with either sand or water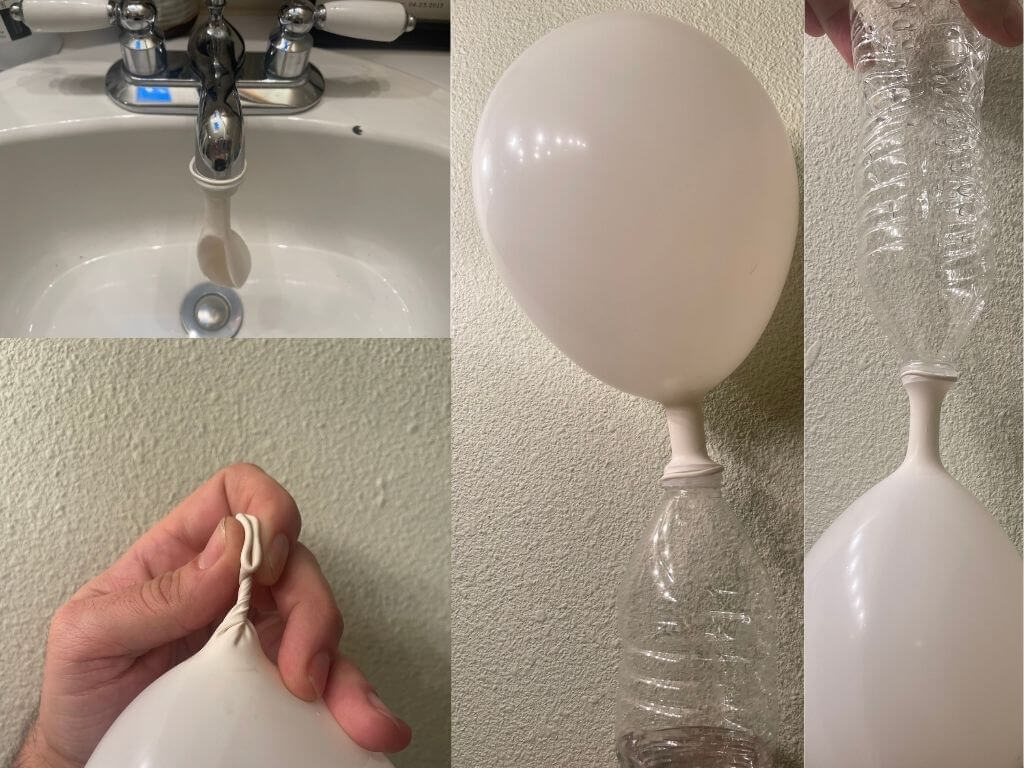 Get two uninflated 11" balloons of the same color as the arch. You can make the balloon weights with sand or water. I am going to fill them with water.
Use a pencil or chopsticks to stuff one balloon inside of another for strength.
Attach the balloon nozzle to a faucet or hose and fill the inner balloon only to the size of a fist.
When you've filled the balloon with enough water, turn it back over and deflate the remaining air. Make sure to hold on the balloon tightly and not spill water out as you deflate the air.
Tie it off. You only have to tie the outer balloon if both necks are too difficult to tie.
Step 6: Secure the finished no-helium balloon arch for extra stability
Stand arch up on each end. It will stand up loosely.
As our balloon arch has neither frame nor helium, it will need some extra stability. Attach the balloon arch above a doorway or entryway to an existing tie point or command hook previously installed.
Secure the balloon arch to the tie point or command hook with ribbon at the middle point of the arch above the door frame. Attach to other points along the wall if the arch still seems wobbly.
Adjust the balloons as needed as they may have shifted during installation.
And voila, your DIY balloon arch without helium is ready for the party guests!
DIY Balloon Arch No Helium: Frequently Asked Questions
They don't have to! Helium is a finite and expensive resource so create air filled designs whenever possible. With this tutorial you now know how to make a DIY balloon arch without helium gas!
You can use a variety of things to make balloons stick together. You can use ribbon,  fishing line, natural twine or a balloon decorating strip. You can also use long modeling balloons to tie balloons together to create a balloon arch.
You cannot make a helium filled balloon arch the night before as it wouldn't last.

Air filled balloon arches typically can last a few days if kept away from heat and sun.

Some balloons may pop if you create the arch the night before, but you can easily replace the few that have popped.
Balloon arches and designs without helium can last several days if properly taken care of.

Click here to learn more about how long balloon arches last.
Depending on complexity and size it should take two to three hours including inflation and installation. If it's your first balloon arch, it will most likely take longer. Give yourself more time than you think you'll need.
DIY Balloon arches are not especially difficult to make, but they take time away from party planning and set up.
Author Bio
Raised in a magic shop in a rural, multi-ethnic family, Kameron Messmer's unique perspective is channeled through his genre defying art. Recently, he has earned praise as Portland's "Best Balloon Artist" for his mind and
heart expanding sculptures which are not only colorful, eye-catching creations but serve as much needed interventions of JOY in these heavy and difficult times.