How To Make Cake Boards
For Your Balloon Bases
Cake boards come in all shapes and sizes and are readily available at big stores like Walmart or in crafts shops. Of course you can order them online too. You use them to create unique bases for balloon centerpieces and bouquets.
If you live in a part of the world where they are not a common item, it's time to improvise and make your own perfectly round cake circles.
If you make a purchase through a link on my site, I may receive a small commission at no extra cost to you. I only recommend products that I believe to have good value (affiliate disclosure).

What you need for your 8 cm (3.1 inch) cake boards:
a piece of cardboard (preferably heavier quality),
a glass or similar as your 8cm template,
a roll of aluminum foil and
some cellotape.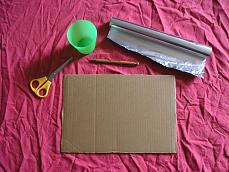 Using your circular template, mark out as many circles on the cardboard as you need (fig. 1). Then take a sharp pair of scissors and cut them out carefully (fig. 2). 

Now take your roll of aluminum foil and cut out a square about 15 x 15 cm. Place your cardboard circle in the center (fig. 3). Then begin folding the foil evenly over the cardboard (fig. 4). 

Once complete, press out any lumps and bumps, working towards the center of the circle. When you're happy with it, apply a piece of cellotape just to help keep everything secure (fig. 5).
Finally flip it over and there you have it - a nice, smooth and shiny silver board (fig. 6) as we used in the table base for our balloon bouquet 'Simple & Elegant'.