Catchy Balloon Business Names
Catchy Balloon Business Names: How to Choose The Perfect Name For Your Business
Are you on the hunt for the perfect, catchy balloon business name? Look no further! A great name is crucial for any business, and especially so if you're a one (wo)man show and just getting started with building your brand. 
If you make a purchase through a link on my site, I may receive a small commission at no extra cost to you. I only recommend products that I believe to have good value (affiliate disclosure).

You want a name that's memorable, easy to say, and perfectly captures the essence of your business. 
You also want to ensure the name is available as a domain name and on social media, so that you can market your balloon business with your own blog and via Facebook, Instagram or YouTube. 
So, let's brainstorm and come up with a winner!
Why is it Crucial to Have a Catchy Balloon Business Name?
First impressions are essential for a business. A well-chosen name can create an instant connection with your potential customer.
The right name will also
Make your business look more professional
Help you attract your target market
Make your business easier to remember
Help you build a strong brand identity
Choosing a name for your business is one of the most important decisions you'll make, so take the time to get it right. 
Tips for Choosing a Catchy Name for Your Balloon Business
With a little creativity and thought (and our four tips below), you can come up with a name that's perfect for your business. 
1. Define Your Name Criteria
What criteria should your ideal balloon business name fulfill? Here are some guidelines.
A clever balloon business name should be
Easy to remember and pronounce
Aligned with the vision and values of your business
Relevant to your target market
Available as a domain name and social media handle
We also recommend doing a trademark check (at least in your own country) to avoid potential legal conflicts down the line.
2. Start Brainstorming Ideas
When you start brainstorming business name ideas, think about what you want people to feel when they hear your name and what kind of customers you want to attract.
Here are a few ideas to get your creative juices flowing:
Play off of words associated with balloons: Try combining words like "float," "bounce," "pop," or "air" with other words like "fun," "happy," "joyful," or even "dreamy." This will create names that emphasize the fun associated with balloons. 
Incorporate colors: Balloons come in all sorts of colors and hues so try combining different colors with other words from above to create unique names that feel cheerful and light-hearted. 
Use puns: Puns are always fun when it's about naming businesses! Think of a clever wordplay related to balloons such as "Balloonanza," "Balloon Blooms," or even something more whimsical like "Upside Down Under Balloons." 
Write every name down as it pops into your brain. Don't censor yourself, no matter how silly the name may sound. You'll prune your list later. 
3. Leverage Business Name Generators
Stuck on coming up with a good name for your balloon business? 
No worries, that's where business name generators come in! These free tools use algorithms and word lists to generate unique and catchy name ideas for your business.
All you need to do is input some information about your business, like the industry and keywords, and voila! You'll have a list of potential names to choose from.
Using a balloon business name generator can save you time and make the naming process a lot easier.
Out of the many business name generators, here are the three that we liked best:
Even though its own name lacks imagination, the "Business Name Generator" is a good place to start. Enter one or more keywords and within seconds you see a large list of potential business names. 
Small sample of the Business Name Generator results for the keyword "balloon."
Refine the results by number of words, number of characters and whether you want your business name start or end with your keyword(s). You can also filter by industry. 
Click the plus sign next to each name to see if the domain name is still available. 

Click the star icon to save a name to "saved ideas." You can then have the list of your preferred names sent to you via email.
Despite its old-school look, Dot-o-mator works surprisingly well for generating creative balloon business names.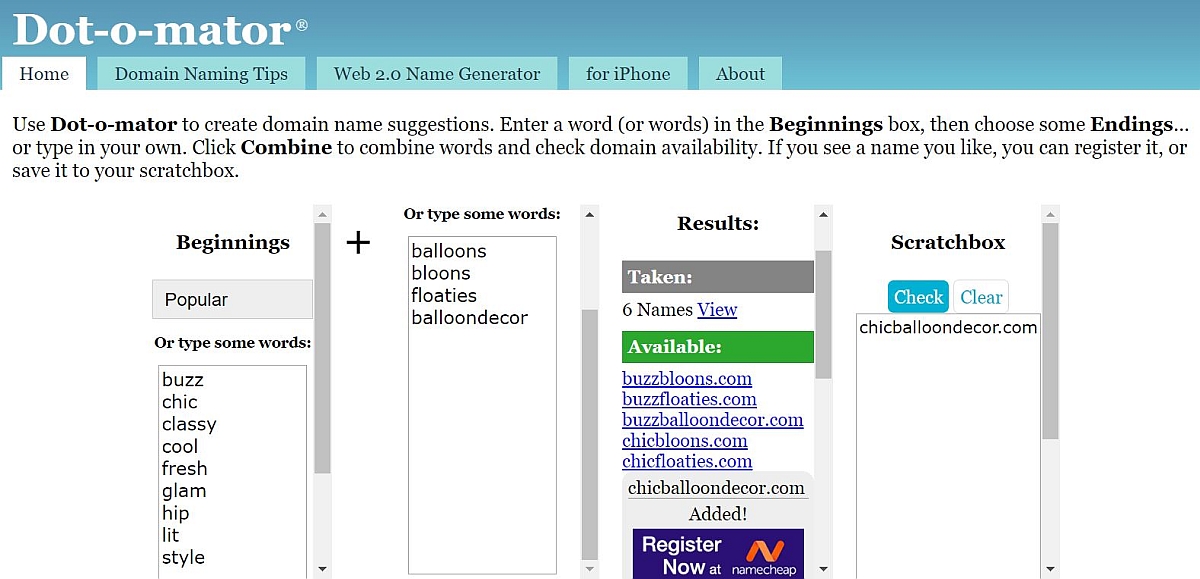 Dot-o-mator's interface may not be the prettiest, but it works well!
The first two boxes are where you either select beginnings and endings from categories like popular or colorful or you enter your own words.
In the example above, we chose the category "popular" for the beginning of the business name, and typed in several words for the ending.
Click combine and you'll see the resulting names in the third box. The tool immediately filters out names where the .com domain is taken.
If you see an available domain name you like, you can either save it to the "Scratchbox" or click to register it.
Namelix is the fanciest of the three business name generators. It's fun to use and you'll be blown away by the colorful presentation of the results. 
Start by selecting a name style. For your first try, we suggest you stick to "auto." Next, choose between low, medium and high generation randomness. The lower you go, the closer the names will be to what you entered.
Finally, enter keywords and a one sentence description of your business under brand info.
Click "generate" and you'll be presented with something like this…
Small sample of balloon business name suggestions generated by Namelix.
Click the heart icon to add any name you like to the "saved" tab. 
One downside of Namelix is that you need to click through to the domain registrar (namecheap.com) to find out if a domain name is still available. The tool doesn't provide the information on its own results page like the other two business name generators.
4. Ask Friends and Family for Their Opinion
Review your list of potential names. Narrow them down to your top five. Double check that they are available as domain names and on social media.
Now it's time to get some honest feedback. Ask your friends and family for their thoughts on your top potential business names.
Not only will they tell you how the names sound, but they might also have some awesome suggestions you never thought of. Don't discard names that aren't on your original list - sometimes the best ideas come from the unexpected.
Catchy Balloon Business Names: Main Takeaways
Balloon businesses are creative and fun, so your business name should reflect that. 
Take your time when brainstorming catchy balloon business names. Don't expect to land the perfect name within a few hours or even days. 
Use business name generators to help you generate lots of ideas, then narrow down the list to your top choices, following the criteria we outlined.
Don't be afraid to ask for feedback. 
Don't settle before you have a name that feels right and that fits your brand and personality. 
---
Discovering the ideal name for your balloon business just got easier with this expert guide brought to you by BloonsUp and Breadnbeyond.
Co-author Bio
Andre Oentoro is the founder of Breadnbeyond, an award-winning explainer video production company.
He helps businesses increase conversion rates, close more sales, and get positive ROI from explainer videos (in that order).