In my articles, I recommend products  to create your own balloon decorations. If you buy through one of those links, I receive a small commission. There is no additional cost to you. To learn more, please see my affiliate disclosure.
Bubble Balloons
by Julie
(Shropshire)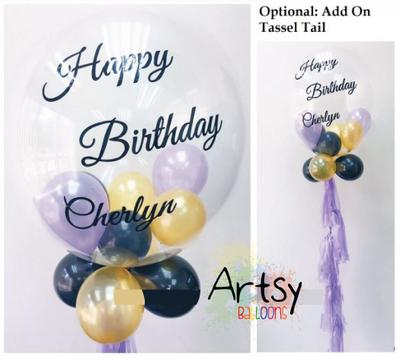 "Happy Birthday" bubble balloon filled with 5 inch balloons and a collar [Source: artsyballoons.com]
What size bubble is best to hold 6 X 5" inside and have a collar of 4?


Answer:
Hi Julie,
Most balloon professionals use 24 inch bubble balloons to fill them with 5 inch balloons. I've uploaded two example images.
You could also try with an 18 inch clear balloon, and inflate the 5 inch balloons to 3 or 4 inches only.
Hope that helps!
Join in and write your own page! It's easy to do. How? Simply click here to return to Balloon Decorations FAQ.