How much support will I need to make a rainbow arch w/linkaloons for a float?
How much support will I need to make a rainbow arch w/linkaloons for a float?
by Cheryl Garner
(Hico Care Center)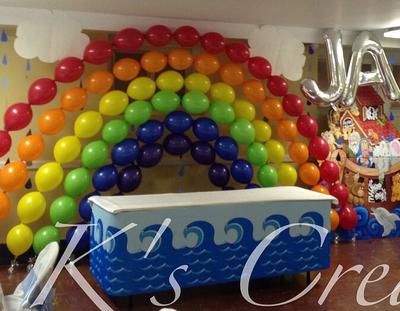 Link-o-loon Rainbow Arch - Best for Use Indoors [Image credit: K's Creations]
We are making a float for a parade this Thursday. We have a tank of helium, 300 linkaloons and a 10 x 12 trailer.

We wanted to have 4 or 5 rows together to look like a rainbow, but I can't figure out what kind of support I need to keep them from blowing too much.

Any ideas?

ANSWER

Hi Cheryl,

For outdoor balloon decorations, the best thing you could do is build an air-filled arch on a solid frame. Otherwise it will sway in the wind.

As you can see in the second image I uploaded, arches on a frame can also have a beautiful rainbow pattern.

The design you have in mind has two major problems: first, helium balloons expand much more in hot conditions than air filled balloons do, so there is a bigger risk that many of them are going to pop.

Secondly, with link-o-loons, you won't have a solid frame.

Would it be possible to secure a wooden or PVC panel on the float that could act as a wall? Then you could place your rainbow colored link-o-loon strings against this artificial wall, similar to the decor shown in the first image.

The only other solution I can think of would be to use strong fishing line with the link-o-loons (as you would with a normal string of pearls arch) and then secure the fishing line with tethers to some anchor points on the float.

Wishing you good luck and I would love to see a photo of the float!

Margit
Join in and write your own page! It's easy to do. How? Simply click here to return to Balloon Decorations FAQ.