If you make a purchase through a link on my site, I may receive a small commission at no extra cost to you. I only recommend products that I believe to have good value (affiliate disclosure).

How to Build a Hot Air Balloon Model, Part II
You've draped the net over your hot air balloon model and attached the basket to it. Now it's time for the finishing touches to turn your model into a true piece of art. For a refresher on the first steps please click here.
Take four 5" balloons, blow them up and tie them off into groups of two. Attach both sets of balloons to the basket, either by tying them on with ribbon or by simply bringing them round the net strings and twisting them once around on themselves (fig. 7)
Another delicate finishing touch is to tie some tulle bows at intervals around the balloon net (fig. 8).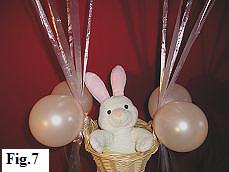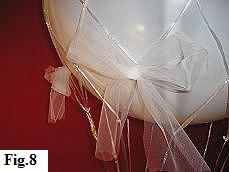 And this is how your balloon model will look at this stage (fig. 9).

The final part is to dress up the knot on the top of the balloon. So, blow up another four 5" balloons and once again, tie them into groups of two.
Take the first pair and while pulling up slightly on the big balloon knot, bring them around (fig. 10) and twist them once (fig. 11).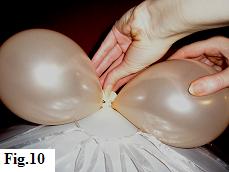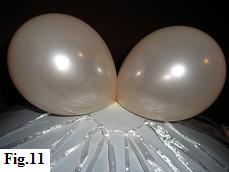 Now take the second pair of balloons (fig. 12) and push them centrally between the first set of balloons (fig. 13).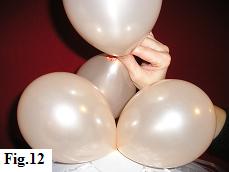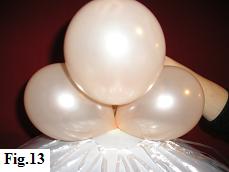 Be sure to push them all the way down (fig. 14) and you will find that the tension of all four balloons keeps the cluster firmly in place (fig. 15).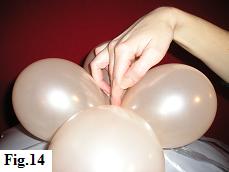 That's your hot air balloon model finished! 
To display this, you can either weight the basket down to make it floor or table standing, or for its best effect, tie it off using nylon line so that it floats in mid air.