How do I stop 5 inch balloons popping?
by Laura Smith
(England )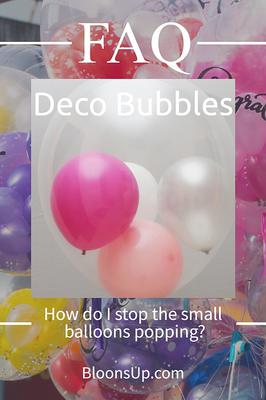 Why do the small balloons keep popping? Share these tips or save for later!
Hello. I have been in the industry for a few years now and I have never had this problem so looking for advice!

Once I have filled a deco bubble with mini balloons and inflated. Some of the mini balloons are popping ???!?!?!

Has anyone had this problem? If so, how do I stop this happening?

Many thanks

ANSWER

Hi Laura,

I haven't heard about this happening before, but here are 3 possible reasons why the 5-inch balloons might be popping:

#1: You were simply unlucky and purchased a batch of poor quality 5-inch balloons.

#2: After inflating the balloons, the temperature in the environment around the deco bubble changed. In other words, it got warmer and the 5-inch balloons expanded.

#3: You over-inflated the 5-inch balloons (but as you said you've been in the balloon business for some time now, I doubt that this is the reason).

Another important thing to remember is to never mix gases when putting smaller balloons into larger ones.

If the bubble balloon is filled with air, fill the mini balloons with air as well. If the outer balloon is helium-inflated, the small balloons need to be filled with helium as well.

(Big thanks to reader Cheri for reminding me of this guideline in the comments.)

I've also answered a similar question where the deco bubble was popping, not the inner balloons. You may find my tips there helpful as well.

Good luck! Let us know if you could solve the problem!

Best,
Margit

P.S. Sue Bowler has a comprehensive page about using bubble balloons, with videos.

And here's a cool tool for filling deco bubbles, invented by Chris Adamo from Balloons Online.