What kind of weights to anchor helium balloons in a pool
by Julie
(California)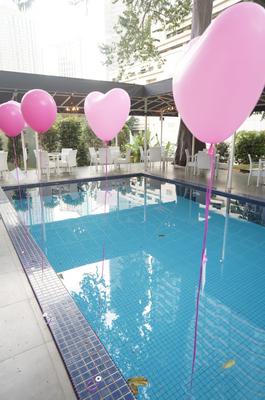 Floating heart shaped balloons (Source: viviangan.com)
What kind of balloon anchors could I use for helium balloons in a pool?

ANSWER

Hi Julie,

I am guessing you want the balloons moving around the pool, right? Then you should use a weight that's light enough to float, and heavy enough to keep the balloon down.

(Lifting capacity of a helium balloon depends on its size and shape. Here's a handy helium balloon chart).

In the images I uploaded two types of pool balloon weights are being used: one is a metal (or plastic) disc; the other seems to be some flat rectangle plastic box or a piece of foam.

Diving rings could be an easy option, like another reader suggested in the comments.

You could also use small plastic bottles filled with water to weigh down your pool balloons.

Don't use sand, marbles or rocks in your balloon weights. These items can damage the pools filtration system if one happens to break.

Good luck! Would love to see a photo of the floating balloons in your pool.