Christmas Balloon Centerpieces
Cheerful Christmas Balloon Centerpieces | Perfect Table Decor for Weddings & Special Occasions 
Looking for the perfect way to liven up Christmas parties, Holiday celebrations or a winter wedding? Festive Christmas balloon centerpieces fit the bill. They are easy to make, affordable and can be adapted to venues big and small.

If you make a purchase through a link on my site, I may receive a small commission at no extra cost to you. I only recommend products that I believe to have good value (affiliate disclosure).

Christmas Balloon Centerpieces: The Basics

Beautiful example for an air-filled centerpiece: Mini Christmas Tree in turquoise, white and silver [Source: upbeat-balloon.co.jp]
First, you'll have to decide whether to go with a helium or air-filled centerpiece.
Air filled balloon centerpieces have the advantage that they last longer and you save on helium.
On the downside, they usually take up quite a bit of space in the center of the table and might even obstruct the views across the table.
Helium-filled balloon bouquets on the other hand are floating above the table, using up less space on the table itself. They have a shorter life span though, which means you have to set up your table decorations on the day of the event.
When creating the Christmas balloon centerpieces, take into account factors such as the height at which the balloons will rise, the anchor you will use to hold the balloons in place, and the number of balloons. An uneven number of balloons in each centerpiece usually looks best.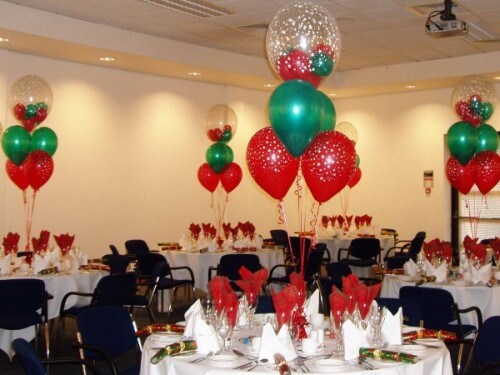 Example for floating balloon centerpieces in the traditional red and green Christmas colors [Image Source: balloonlady.co.uk]
Designing a holiday feel can be as simple as choosing traditional Christmas colors like red and green.
Depending on the style of the holiday event or wedding, you may opt for a classier color combination and include gold or silver balloons. Metallic balloons add an extra dash of elegance to your Christmas decorations.
The number of balloons in your centerpiece depends on the table size. For small tables, three balloons arranged as a staggered design (i.e. each balloon at a different height) would be sufficient.
For larger tables, consider adding more balloons and/or arranging them in a stacked formation, with a larger balloon on top (as shown in the image above).
A great way to add even more festive spirit to your Christmas balloon centerpieces is to use Christmas themed foil balloons. Choose between round mylar balloons with "Merry Christmas" greetings and a variety of character balloons, like reindeers, gnomes or elves.
Pro Tip: An excellent alternative to helium filled floating designs are the so-called topiary trees. They don't obstruct the view across the table and have a long lifespan, as they are air-filled.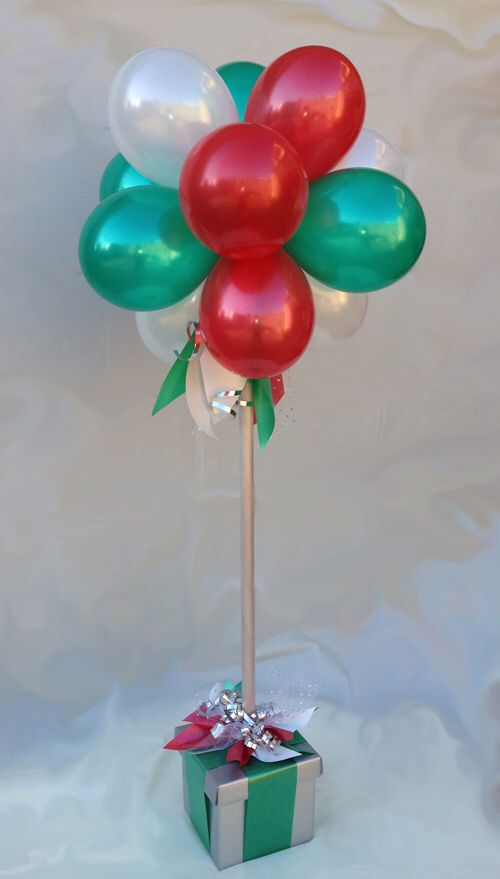 Another example for an air-filled Christmas themed table decoration: Balloon Topiary Tree [Image source: pugetsoundballoons.com]
DIY or Ready-Made Anchors for Your Table Centerpieces

Make simple centerpiece bases with small bags of sand, wrapped in colorful paper. To do this, fill a sandwich bag with about a pound of sand, and tie the bag tight so no sand escapes.
Choose festive wrap to pull up around the sides of the bag and tie it with a ribbon that matches the color scheme. 
Do your best to make the anchor look like a gift with balloons attached to it. There should be one anchor for each grouping of balloons.

If you are pressured with time, you could simply buy one of the many ready made balloon weights, that come in all kinds of shapes and colors (gold and silver boxes, mini champagne bottles or musical gift bags to name just a few).

Finally, attach the balloons to the anchors. Keep in mind that helium filled latex balloons only float for about 10-12 hours, so you will want to create the centerpieces not too long before the wedding starts.
To extend the floating time of helium balloons, you can use a product called "Hi-Float". Arranging the centerpieces well ahead of time will make the big day less hectic, so consider longer floating time a wise investment. 
As you are attaching the balloons to the anchors, place them on a table and sit down around them with a friend or family member. 
Be sure the balloons float at a height that does not block the guests view when they sit at the tables. Dodging a balloon centerpiece all night in order to converse with other  guests is no fun for those at the tables!
Want more creative ideas to compliment your Christmas party decorations?
How about adding life-sized balloon sculptures, like a Christmas tree or a snowman, completely made out of balloons?
Of course, also balloon arches, balloon columns or balloon drops can be designed to fit your holiday decorations.
Whether you want to create a stunning winter wonderland for your next party or beautify a Christmas wedding, balloon decorations are a unique way to achieve the look you have in mind.