Looking to Buy a Balloon Stuffing Machine?

- Reviews and Bargain Listings -
Are you ready to invest in a balloon stuffing machine and take your balloon business to the next level?
If you are unsure which balloon stuffer is best for you, read my reviews of the two most popular machines: the Classy Wrap and the Keepsake Stuffer.
Or jump directly to a selection of new and used balloon stuffing machines for sale.
If you make a purchase through a link on my site, I may receive a small commission at no extra cost to you. I only recommend products that I believe to have good value (affiliate disclosure).

If you are a small business owner and you own a shop that sells gift items, floral arrangements, candles, handmade goods, or local souvenirs, adding stuffed balloons to your products may be just the thing to boost your business. 
What if you are a DIY person and just want to create the occasional stuffed balloon as a surprise gift for family and friends?
Then you don't want to miss the instructions of how to make your own balloon stuffing machine!
Before we jump into the reviews, let's answer the most basic question first...

How Does a Balloon Stuffing Machine Work?
They work by sucking the air out of the environment of the balloon, which expands the stuffed balloon and keeps it inflated. So it stays inflated despite the neck being wide open. Fascinating, right?
Each balloon filling machine needs an airtight chamber, which can be either round (Keepsake Stuffer) or rectangular (Classy Wrap).
They also need an electric pump or motor to suck the air out and create the required vacuum.
Classy Wrap Balloon Stuffing Machine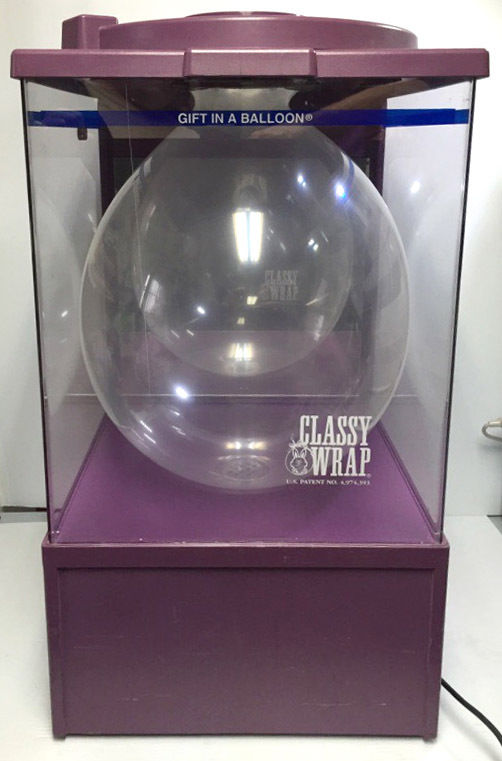 The Classy Wrap Machine [Image found on eBay)
The Classy Wrap stuffing machine is being produced by a company called Gift In A Balloon® (GIAB). They've been around since 1988 and consider themselves as the pioneers and leaders in the balloon stuffing industry. 
Classy Wrap Features:
17" x 21" (43cm x 53cm) rectangular balloon chamber with a 6" (15cm) opening
Floor standing machine with sturdy wheels for easy transport
Industrial-strength motor is available in either 120 or 240V Power source
One year limited warranty
User guide and video
Flowers can be inserted by by utilizing the Classy Wrap's  retractable inflation hose with a Jiffy Tube
Dimensions: 32"  x 17 1/2" x 19"  (81cm x 44.5cm  x 48cm); weight: 38 lbs (17.2 kg)
Price starts at $999 for the machine alone. You can also buy the "Professional Package" complete with materials and a balloon display tree. Price for the "Pro Package" is $1,359.
Now let's look at some pros and cons of the Classy Wrap machine. After that, I recommend you watch the instructional video below to get a feel for how the stuffer works.
PROS:
Manufacturer has been around since 1988
Floor standing machine, so you don't need a table or other stand to operate it
Different packages to choose from, e.g. the Classy Wrap machine on its own or the "Professional Package" which includes designer kits and a balloon display tree
Wide selection of replacement parts available on their website, which makes it easy to repair your machine should you need to
CONS:

Size and weight make the machine more difficult to transport
No other sellers, at least I couldn't find any listings outside the GIAB website
No independent reviews except for the testimonials on the website
Only one training video on the Gift in a Balloon YouTube channel, and this video gets cut off at the end before they fully explain how to tie the balloon neck (the video below is from a different channel)
Go to our current selection of new and used machines.

Keepsake Stuffer
The Keepsake Stuffer [Image source: www.keepsakestuffer.com]
The Keepsake Stuffer is produced by KS International Inc., another one of the pioneers in the balloon stuffing industry, founded in 1989.
Keepsake Stuffer Features:
Round stuffing chamber, made of lightweight clear plastic with a 5 ¼" (13.3cm) opening
Foot operated inflator 
Extension hose
"Stretch A Roo," a tool to stretch open the neck of the balloon
Stuffing sleeves to protect the balloon neck when inserting items
Rose stuffer included; it allows you to stuff silk roses or live roses in an 11" Qualatex heart shaped balloon
Two year full warranty
Detailed operation manual
Dimensions: 22" (56 cm); 21 pounds (9.5 kg)
Price starts at $679 for the machine alone. Or you could purchase the "Beginner Kit" for $965. It includes all the materials needed to get started with selling stuffed balloons.
Let's again look at some pros and cons before moving on to my personal recommendation.
PROS:
Manufacturer has been around since 1989
Smaller size and lower weight make the machine easy to transport
Foot operated motor leaves both hands free
Two year full warranty
Positive reviews on Amazon
Available from various sellers, including on eBay
Different packages to choose from, e.g. the Keepsake Stuffer on its own or the "Beginner Kit" which includes all the material to get started with offering stuffed balloons
Several training videos on the Keepsake Stuffer YouTube channel (although it would be nice if their full demo video -- see below --  had a voice over); Tip: watch the shorter video clips as well; they do have voice over
CONS:
You need a table or other stand to operate the stuffer
Opening of the stuffing chamber is with 5 ¼ inches slightly smaller than the 6 inches of the Classy Wrap
Classy Wrap vs Keepsake Stuffer - My Personal Recommendation
First, a disclosure: I have no personal experience with either one of those two balloon stuffing machines.

From watching instruction videos and checking out the respective company websites, my personal preference would be the Keepsake Stuffer.

For one, it's smaller than the Classy Wrap, as it is placed on a table, whereas the Classy Wrap is a floor standing machine.

I also like how you can tie the neck of the stuffed balloon while it's still inside the balloon chamber.
The demo video below shows what I mean.
In addition, when comparing the websites and YouTube channels of Keepsake Stuffer and "Gift in a Balloon" (the makers of the Classy Wrap), the team at Keepsake Stuffer do a much better job, which is reflected in the positive testimonials.

Other Brands of Balloon Machines
We looked at the two big players in the balloon industry, the Classy Wrap and the Keepsake Stuffer. Are there other brands of balloon stuffers to consider for your purchase decision? 
Here are three machines worth exploring:
Super Stuffer
Puff N' Stuff
Zibi Balloon Stuffer
The first two are manufactured and distributed by the Canadian balloon wholesaler "Surprize Enterprize." The third one is from a Swiss company called Zibi (that's the same company where I bought my first electric balloon pump from!).
Super Stuffer
Super Stuffer [Image source: surprize-enterprize.com]
The Super Stuffer looks a bit like a modern version of the Classy Wrap, providing many similar features. For starters, it's also a floor standing machine with a built-in vacuum motor and floral tube. 
The stuffing chamber is made of tough clear PETG plastic designed to fully inflate an 18 inch stuffing balloon. 
The stuffer also includes a handheld balloon expander to ease the manual stretching of the balloon neck, and a protective sleeve.
Want to offer real flowers inside an 11 inch clear latex balloon? Easy to do with the Super Stuffer's integrated floral cylinder.
Retail price for this machine starts at $739.
At the time of this writing (January 2022), the Super Stuffer was out of stock in North America everywhere except at the manufacturer's website itself. I've also seen it offered by my friends at BalloonMarket.co.uk. You need to register a trade account (i.e. you are either a balloon business or a retailer) to purchase it there.
Bottom line: The Super Stuffer seems a good alternative to the Classy Wrap. If you're an established balloon business looking to expand into stuffed balloons and balloon gifts, it's a worthwhile investment. 
Puff N' Stuff
Puff N' Stuff [Image source: surprize-enterprize.com]
Good to know: With machines where you use an external balloon pump, you expand the balloon by inflating it. You're not sucking air out like with the bigger stuffers.
The Puff N' Stuff is Super Stuffer's little brother. You get the same sized clear stuffing chamber with 360 degrees of visibility.
The protective sleeve is also provided and an inflator hose.
Not included are the vacuum motor, the stand, the floral tube and the balloon expander. 
To operate the Puff N' Stuff, you need to put the chamber on a table. You also need to have an external electric balloon pump.
Retail price starts at $359 for a new machine. 
Bottom line: The Puff N' Stuff is ideal for you if you already own an air inflator and want to offer stuffed balloons in addition to your other services. It's also great if you don't have a lot of space or are a start-up with a tight budget.
To learn more about the Super Stuffer and the Puff N' Stuff, check out the instructional videos at the Surprize Enterprize YouTube channel.
Zibi Balloon Stuffer
Zibi Balloon Stuffer [Image source: zibi.de]
The Zibi balloon stuffing machine looks like Puff N' Stuff's identical twin sister, only that the chamber collar is in blue instead of pink and the protective sleeve is made of clear plastic instead of cloth.
It's also a table-top stuffer that you need to attach to an external electric air inflator via the included inflator hose.
At the time of this review (January 2022) it seems to be available only at the Zibi shop itself and at a few UK suppliers. 
Retail price starts at €346 (approximately $396). Zibi throws in 10 stuffing balloons and clips for this price. 
Watch this tutorial video if you're interested in the Zibi stuffer.

Bottom line: Light weight and at a lower price point, the Zibi Stuffer is a good choice for you if you're on a tight budget and want to dip your toes into offering stuffed balloons as a sideline to your decorator business. It's the European alternative to the Puff N' Stuff. 
How Much Does a Balloon Stuffer Cost?
Special tip: When looking for a used (or new) machine at eBay, pay close attention to the pricing. At eBay.uk I've seen a listing for $824, more than double the cost in the Zibi store.
The cost of a balloon stuffer depends on the make and model and whether you buy a new or a used machine.
Prices for the stuffing machines that I reviewed on this page range from $359 to $999 when bought new. 
The two cheapest models don't have a built-in motor to inflate the balloons. These make most sense if you already own an inflator or you plan on buying one anyway for other air-filled designs.
Pricing for used machines varies wildly. Check out the up-to-date eBay listings below. 
For the DIY Lovers: How to Make Your Own Balloon Stuffing Machine
If you don't want to spend the money on a balloon stuffer at the moment, but have the time and patience to make one yourself, you are in luck.
I found an excellent video tutorial. It's in Spanish, but you can enable subtitles and have them auto-translated to English. 
To enable the subtitles, first click on "cc" at the bottom of the video. This will turn on the Spanish captions.
Now click the gear wheel icon to access the video settings. Select "subtitles," then "auto-translate" and choose English (or any other language of your choice).
And here's the tutorial for making your own balloon stuffing machine:

Balloon Stuffing Machines and Accessories - Ebay Deals
The items below are pulled directly from eBay and should always be up-to-date.