Balloon Popping Game Poppit
Balloon Popping Game Poppit – 

Pop Goes The Stress, In Comes The Fun!
The balloon popping game Poppit has been a favorite online balloon game for many years now, both with grown ups and kids. It follows a pretty simple set of rules.
Jump down to play the game now.

If you make a purchase through a link on my site, I may receive a small commission at no extra cost to you. I only recommend products that I believe to have good value (affiliate disclosure).

What is the Game Poppit?
Like the name 'Poppit' suggests, all you really need to do is pop a group of balloons, gather all the hidden prizes and proceed to the next level.
Along the way, you will receive bonuses for popping more balloons, such as power-ups, bonus points, and reward bubbles.
The only trick is that the balloons have to be grouped together before you pop them. So you have to group the balloons according to their colors and then attempt to pop them either vertically or horizontally. A group has to have a minimum of two balloons.
The balloons come in five different colors – red, green, blue, yellow and purple. The colors change around the time of a holiday, so make sure you play the game during Halloween or Christmas, Easter or Thanksgiving.
The challenge for this puzzle game comes from thinking ahead and wisely popping balloons that will ensure high scores.
Can You Play Poppit Online?
Yes, Poppit is an online game. All you need is a computer, a mouse and a free account at Pogo.com.

There are some additional features you will love. First, there is "Spike", the friendly cactus. He is your game guide. Watch him cheering when you release prizes. Spike may also change his color from time to time.
Secondly, to help you win the game, special "power-ups" are sometimes released instead of prizes.
One is a pin which you can use to pop a single balloon.
The other is a weight. It comes in handy if you want to shift a column down a single row. This can help create new groups of balloons that you can then pop.
The powers-ups help you pop more balloons to increase your score.

When you register for a free account at Pogo.com (where Poppit is hosted), you can chat with other Poppit fans whilst playing. You can also join the group chat at any time during the game.
If you love competing against others, you can join one of the featured challenges where you have to reach a certain goal like popping 2200 balloons or releasing 10 Red Dice prizes in a set amount of days.
The challenges are for Pogo Club members only. After a 7 day free trial, the membership costs $6.99 per month.
A tip for playing the game most successfully: start popping the balloons from the top rows and then proceed to the bottom. This way you can gather more points. Also try to pop as many of the gift balloons as you can. These balloons will give you a few prizes, that convert into extra points.

If you manage to leave five or less balloons at the end of a round, you'll get a "congratulations" message and a prize. But hey, this is not as easy as it might sound!
After popping the last bubble, it takes a few seconds for the screen to flash a bit to let you know that you're at the "end" of the game.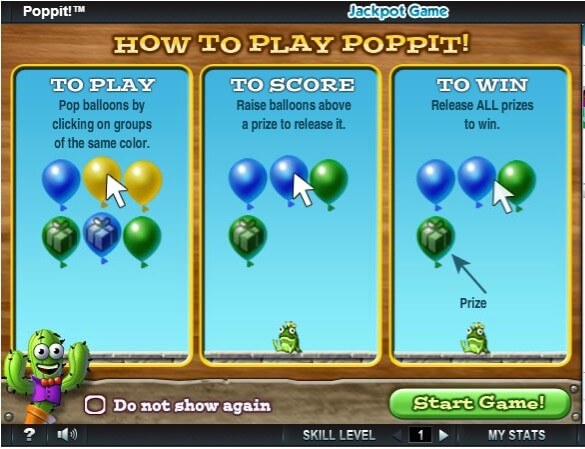 Clicking the image takes you to the game at pogo.com
Poppit is a fun and easy game that kids and adults alike will get a kick out of.  Its simple rules make it a perfect game for people of all ages to play. It's one of those free online games that you can play with your family or friends anytime, anywhere!