If you make a purchase through a link on my site, I may receive a small commission at no extra cost to you. I only recommend products that I believe to have good value (affiliate disclosure).

How to Make a Balloon in a Box
Part II
The box for your self-made balloon gift is neatly prepared. Now it's time to fill it!
Step 3: Filling the Box
Sprinkle some decorative metallic confetti into the box. We used multi-colored balloon and star shaped confetti (fig. 11).

Add your 5" latex balloons and the party poppers. If you like, you can always add some extra little gifts and, of course, a greeting card. For example, in our gift box we chose two small bottles of sparkling wine (fig. 12).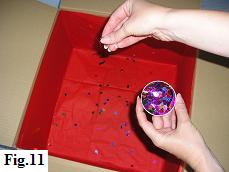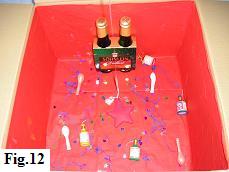 Now you need to attach your curling ribbon to the mylar heart and inflate it with helium as shown on our 'Valentine Balloon Bouquet' page. If you don't want to stretch to the cost of a large helium tank, you have two options. Either get an already inflated mylar balloon heart from your local Walmart or party store or purchase a disposable helium tank.
Next, tie the balloon weight to the other end of the ribbon (fig. 13) and place the balloon heart in the box (fig. 14).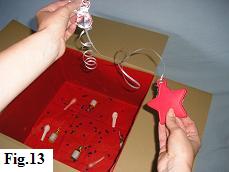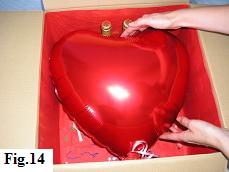 Finishing Up Your Balloon in a Box: Sealing the Box
Fold in the first two ribbon-less flaps (fig. 15), followed by the remaining two with pre-attached ribbons (fig. 16).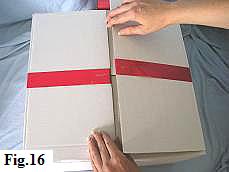 Now take the two loose ribbons and bring them across the top of the box to meet one another and join them together using a piece of clear packing tape (fig. 17).
Next, add the finishing touch by attaching the self-adhesive decorative bow to the center of the box (fig. 18). 

And there is your fun gift, all set for delivery to your lucky recipient!